****Visit our "Disclosure Policy and Cookies" for details. Affiliate links appear on this page from Google Adsense, Amazon, Order Out of Chaos, Impact affiliate members, Release, Repurpose, Reorganize, and Shareasale affiliate members.****
We all worry about the next step in various areas of our lives. Getting ready to declutter is no exception. Today, we are talking about a discussion I had with a potential client and how her worrying and family negativity is stopping her from taking action. Read on to see the questions to ask yourself to stop worrying about decluttering.
Jump to:
I spoke with a woman looking to clear her small home of clutter. She kept telling me that she was just too busy. And then said that she would have to maintain it. Well, of course, I thought. It seems ineffective to spend time and money having a professional organizer to set up goals for every room in the house, and you don't want to maintain it.
She continued to say that her aunt and brother wouldn't help her because they thought she was too messy and would never keep it organized. If you know chronically disorganized people, please don't say this to them. There are many places to get help and support, like Institute for Challenging Disorganization, and other communities that can help a person with their disorganization. By saying that they will never keep it organized, you will stop them in their tracks, and they will never forget that statement when they want to make a change.
"Do not allow negative people to turn you into one of them." – Anonymous. Read more: Questions To Ask Yourself to Stop Worrying about Decluttering
Click To Tweet
After expressing her situation, I asked, "Let's put aside what your family is telling you. Do you want to get your home organized and feel more in control of your life?" She said, "Yes." "Well, then let's stop listening to the doubters and start from the beginning," I said.
Start small when organizing for the first time.
I told her she needed to start small and stop worrying about getting the entire project completed. Adding a recurring appointment (with an alarm) for each week to her digital calendar works well to start decluttering. I like Sunday afternoons (between 3:00 PM to 5:00 PM) because people have usually done everything they need to do over the weekend, and they have a few hours before they start preparing dinner and getting ready for the next day.
Block out 4 hours on Sunday to Organize a Small Area of the Home.
When the day comes to take action, I told her to allocate a few hours at first, clearing out the clutter in the home's main area, like your living room or kitchen. Each week, add a few more hours till you get to about a 4-hour time slot. In four hours, you can dismantle an area and reorganize it completely.
When picking an area of the home, start with the main areas that others will see because
1. You will be able to see the results and how you feel about the uncluttered space, which will reinforce positive behavior.
2. You will show your family that you can clear the clutter on your own and keep it that way.
I explained to her that clutter doesn't happen overnight. So, it will take time to declutter.
"We collect things over the years, so accept that moving forward and clearing the space will take time." ~ Sabrina Quairoli at Questions To Ask Yourself to Stop Worrying about Decluttering #declutteringtips
Click To Tweet
After we finished the conversation, she was calmer and more motivated to do something about her space. She didn't need to listen to her family anymore and be a defeatist. She also realized that the time constraint, not her being messy, was the real issue.
"Clutter is a cry for help. There is always something else that gets the person to the point where their home becomes a mess. They need help, not criticism." ~ Sabrina M. Quairoli #declutteringtips
Click To Tweet
The takeaway from this conversation:
We are fearful of clearing clutter in certain areas of our homes. We don't necessarily want the chaos, but we also don't know what to expect when we can't blame the cluttered space anymore.
Questions to Ask Yourself If You Are Worrying About Decluttering
To help you curb the fear and take action sooner, here are questions to ask to help you start clearing your clutter.
What is the worst thing that could happen if you get rid of this stuff?
How would I deal with this situation if it did happen? What would the following steps be? How will I take care of myself during this issue?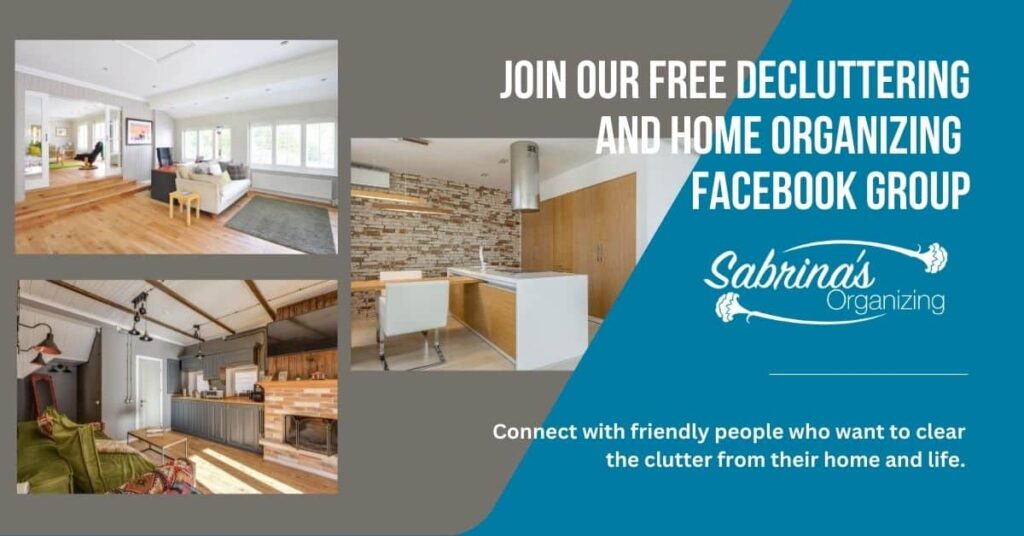 What can I do NOW that will help me feel more comfortable when letting go of things?
Feel free to share this free printable.
These responses are different for everyone. What were your answers to these questions? Leave a comment below. I would love to hear from you.
I hope this helps you get motivated to clear the clutter in your home. And if you need help, please get in touch with a Professional Organizer. Don't struggle on your own. Thank you for stopping by. Please share your questions and comments below.
Below are additional posts I found online to help you.
5 Questions to Ask Yourself Before You Get Rid of Anything
3 Questions I'm Going to Start Asking Myself Before I Get Rid of Something
Please note these are affiliate links through Amazon, and at no additional cost to you, I will earn affiliate fees if you decide to make a purchase.
(Visited 897 times, 1 visits today)