****Visit our "Disclosure Policy and Cookies" for details. Affiliate links appear on this page from Google Adsense, Amazon, Order Out of Chaos, Impact affiliate members, Release, Repurpose, Reorganize, and Shareasale affiliate members.****
Excuses are ingrained in us from childhood. We create reasons that stop us from taking action in any way. By not taking action, we never move forward from our current situation. The excuse we are talking about today is the 'what if' excuse or 'just in case' excuse. These excuses stop us in our decluttering tracks. They limit us from seeing solutions and actions that will simplify our lives. Today, we will share solutions to stop the 'what if' excuses in their tracks and open you up to new possibilities.
Jump to:
'Just in case' and 'what if' are dangerous phrases.
Both are likely to cause many cluttered areas of our home. Looking around your home, how many things are piling up that resulted from these words? Some questions you may ask yourself that would result in an abrupt stop in decluttering are:
What if my kids want it?
What if my next child needs it?
What if my grandchildren wish to have it?
And what if I want to take up that hobby again?
What if I give it to someone who doesn't appreciate it?
And what if I donate it, and it goes to someone who sells it?
What if I need the extra cables for the cable apocalypse?
I will need this old calendar 'just in case' I have to reference it in the future.
I bet you can think of more.
How to combat what-ifs and just-in-case excuses?
Are you ready to eliminate these 'what if's and 'just in case' excuses? Read on to make a difference in your home and life.
Determine what you can control in your life.
The first solution to help combat these excuses is determining what we can control. We can only control how we feel, how we react, what we focus on, and our attitude about all of it. Instead of looking at the things you can't control, decide on what you can control. Write a list of things you can control in your life and home and read it continuously until it becomes memorized.
We are responsible for what we collect in our lives.
Realize that we are responsible for the clutter in our lives, and rather than ignore it, we must focus on it and decide what to do. We make the future the way we want it. If someone else is bringing things into the home, sit them down and discuss openly and honestly how you feel about them doing this action. Start with "I feel .... when you bring in something new." Make it about how you feel, not blaming them for their actions.
Own up to the fear of the unknown.
We all tend to be fearful of the unknown. 'What if I need this item in the future' is just one of them. The fear will always be there. So, ask yourself, what if I need this item in the future? You may have to buy it again. Instead of buying it at full price, you could go to a second-hand store or borrow it from someone. That isn't too bad, right?
Take action.
When we look at items and do not make a decision, the what-if I need them comes up and stops us from doing anything about them. Making it a point to decide where the items will go right now will suppress the urge to say, 'But what if I need it later? Remember to take a step forward, no matter how small, which will get you to a simpler life. Small benchmarks help us be more confident to make the next benchmark, and so on.
Have an accountable person.
Having someone who will stop you from saying 'what if' or 'just in case' when you declutter will save you time and frustration. Your process will continue because they will keep you present on the task and not allow you to fall into the 'what if I need this...' excuse. Pick someone truthful to you the majority of the time.
Remember that we are not perfect.
We make mistakes, and yes, if we get rid of something useful in the next 5, 10, or 15 years, we need to own up to it and say, "At the time of my decluttering, I didn't need this item. And that is OK." We are not perfect people. If you need something you got rid of years ago, those items will likely be outdated. Plus, someone else was most likely enjoying it at the time. So, was it a bad thing?
Decide what the Outcome is if you do give it away.
When we assume that all the what-ifs are super important, it stops us from making any decisions on letting go of things. So, to combat the what-if excuse, we need to look at the likelihood that the unknown will happen. To determine the likelihood, ask yourself these questions:
Determine how likely this what-if situation will occur.
If I get rid of these ....., what impact would it have on my future life? Pick a numeric number from 100% that it will happen most definitely to 0% it will likely not happen. For example, if I give away these extra cables, it is probably 10% likely that I will need them in the next year or five years. Reflect on how often you use the item now to determine how much you will use it in the future.
Decide how you will feel if you have to find the item in the future.
Now decide what will happen if your 'what if' comes true. Going back to my example above, will it be challenging to find cables in the next year or five years if I need cables? How stressed would I feel if I had to replace the item in the next year or five years?
Stop using the word 'But.'
We tend to make excuses for decluttering an area or thing in our home. Something like, "I would love to get rid of this, but...." Sound familiar? Change your sentence by removing the word 'But.' By changing how you state a wish, you will change your mindset and open yourself to the opportunity to eliminate the said item.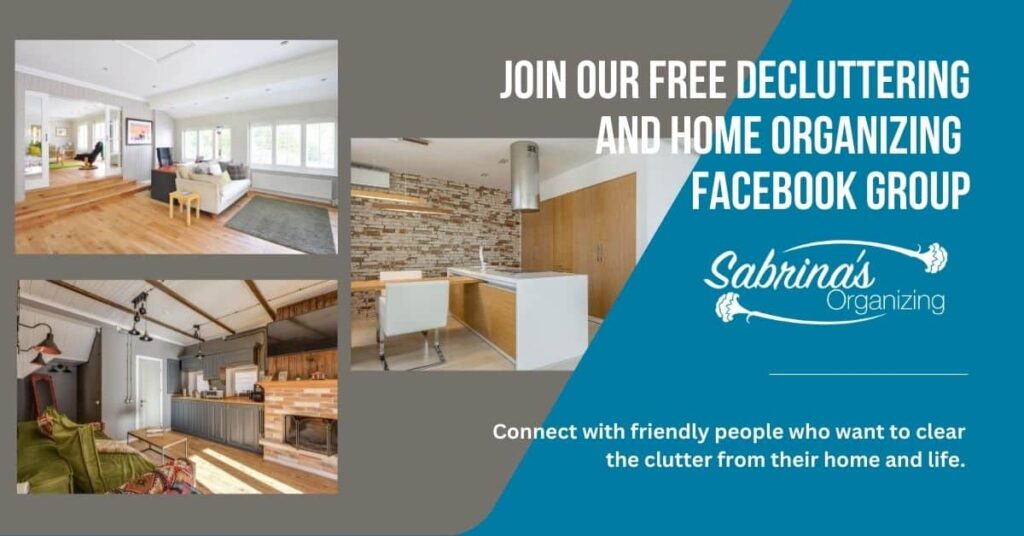 Touch Each Item Once & Make a Decision.
Taking the time to touch every piece of item in your home and make a decision may seem too detailed for you. But, when you do it, it will empower you to make a decision. Not all the items in your home will need a lot of thought. You may need a second or two.
Place a trash bag and a recycling bin near you during your decluttering session, and place them in the right spot after you make the decision. Right then and there, don't stop and place the item down; get it to its home. For example, if the item has a home in the kitchen, place it there immediately. No stopping to judge yourself; take the emotions out of it.
Some questions to ask yourself while picking up each item.
Does this item need to stay?
Will someone else get more value from this item?
Where would I look for this item if I kept it? <<This will help you find a home for this item.
Would it occur to me where I placed this item if I needed it again?
Is there a way to get this information or item for free or low cost if I need it again?
Excuses should give you a signal.
After you recognize your 'what if' or 'just in case' excuses, it will signal that you have an underlying problem with this object or decluttering task. Examine the concern (excuse) more deeply to discover why it bothers you. The more time you spend determining your reasons, the more you will learn about yourself and what stops you from decluttering.
After taking these solutions and building them into your life, your what-if excuses will start to leave, and in their place, you will become a successful person with possibilities for everything. I hope this post motivates you to change your mindset and find new ways to combat what-if (just in case) excuses.
Please note these are affiliate links through Amazon, and at no additional cost to you, I will earn an affiliate commission if you click through and decide to make a purchase.
Visit our other decluttering posts to support you in getting rid of stuff.
(Visited 64 times, 1 visits today)