Downsizing is not just for baby boomers or empty nesters. There are many younger couples that are looking to lighten their cost of living. When looking for a home to downsize into or looking for your dream home to live in for a long period of time, there are many home features that need to be taken into consideration that you wouldn't think of when buying a home. Read on to get more detailed information on the things you would need in a downsizing perfect home.
If you are considering downsizing to make your life easier, keep these downsizing home tips in mind when looking for that perfect home.
Jump to:
Make sure the home will function at any age. But unfortunately, not all homes are comfortable to live in at any age.
When you walk into the home, what will you absolutely need over the years? I know you may not know everything you will need over the years, but make a list of the essentials you need.  Here are some examples, a medium-sized kitchen that has an eating area, 3 bedrooms, 2 bathrooms, and a large living room.
Bedroom on the first floor. This one is a biggie.
Many newer homes now have a master bedroom on the first floor. But if your potential home doesn't, see if there is a room you could change into a master bedroom later on if needed. This will help if you can't make it to the second floor or if you have a parent move in with you.
Easy access into the house.
If your prospective home has too many steps to enter, see if there are other ways to enter the home.  Making yourself aware of these other ways into the home will give you alternatives if something happens that you can't use the main entrance. There is a big cost to add ramps to your entryways, so making an effort to think of alternative ways to enter is a major cost saver.
Make sure the doors, showers, and faucet handles are easy to manage.
I found this one to be very frustrating.  The handles in a relative of mine's home were so difficult to move that as my relative got older, she is having more issues turning on basic items in the home, like a shower or faucet.
Bedrooms are large enough to fit a bed and at least enough room for two nightstands.
Make sure the room can fit your bed plus at least 4 feet of space around the bed.  This will help if you need a wheelchair later in life. If you have smaller kids, make sure that their rooms can fit at least a full-size bed.  Kids get bigger, and they will probably need a full-size bed before they leave for college. We had this issue with my daughter, who still has a twin in her room, because the room doesn't fit a full-size bed comfortably.
Easy to reach closets or easy to get in and out of walk-in closets.
Look for a closet that is either a walk-in that allows you accessibility to the back corners of the closet or one where you can reach into it works nicely. Any closet that you can't utilize the corners inside the closet is a waste of space.
Plenty of places to store things.
Check out places under the stairs and see if you can repurpose the area for storage. Check the attic space to see if you can expand into them later if needed. There could be space in other areas that are too small for anything but storage, so keep those areas in mind for a future area to store items.
Open space in the bathrooms and kitchens.
I had a client years ago who built her own bathroom and made it so narrow that when she needed more assistance in the bathroom, the people who assisted her had a hard time. Make sure you have at least 4 feet around the toilet. And, the kitchen needs to be wide enough too. The 3-foot wide rule works nicely. This rule says you have at least 3 feet of space all around the kitchen so as not to hit anything.
Railing on both sides of the staircases if you have stairs. 
You may not think this is a problem for a home, but if you have to rely on the railing to walk upstairs, it is an important one. If there isn't an additional railing, check to make sure the wall can support a railing for future use.
Pick a home in a central location to where you shop.
The location is very important. You don't want to be in an area that doesn't allow you easy access to everything you need.  This tends to be hard to figure out in the long term, especially in a newly developing area. Research the trend for that area by looking up real estate history to see if there is a boom in expansion in the area. If you can rent for a little while, that helps too.
Look for a crawlspace instead of a basement if possible.
While a cellar is great for storage, as you get older, it may become a clutter magnet and will probably be an issue when you can't get to the basement any longer. But, a crawlspace will limit the space to the upper levels and will force you to clean out the space of clutter more regularly.
Update 2023:
Making sure that the landscape is level.
Walk around the home and see if there are any hazards that may be an issue when walking outside at night or during the day. Jot down areas that may need to be worked on right away. Some homes may have a walkout basement with steps. Check the steps and make sure they are sturdy for you.
Well, there you have it; while these are not the only things to look for in your dream downsizing home, they are the ones that will make your home more usable for a longer period of time.  I hope this helps you downsize your home and make your life easier and more affordable.
But wait, here are more find perfect home tips from other experts about downsizing.
12 Things to Never, Ever Throw Out When You're Downsizing
***AD*** from Released Repurpose Reorganize: My List Simplified journal is a wonderful organizing tool for planning a move or a renovation. Use it to corral all the to-dos.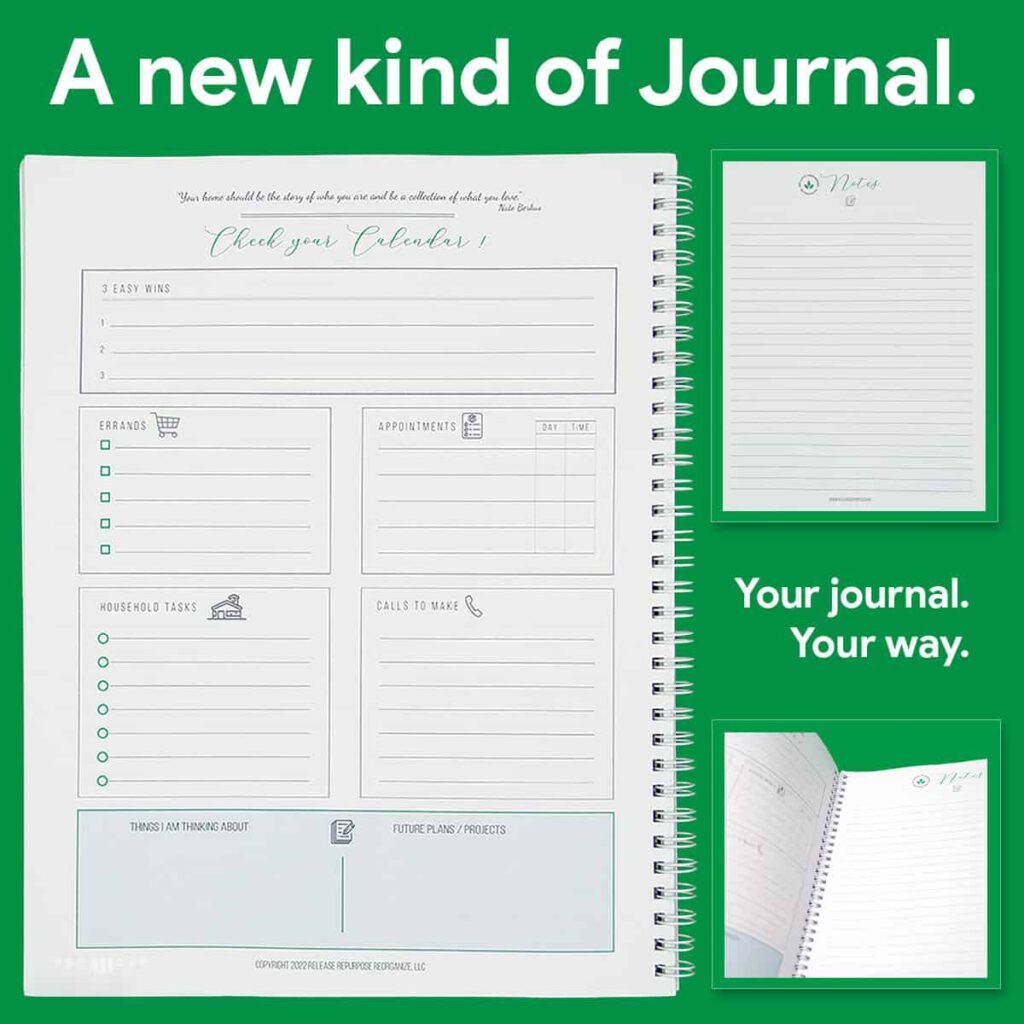 Here are some of my other posts on the downsizing topic.
Benefits to Downsize Your Home
Benefits of Living in a Smaller Home
10 Tips for Organizing An Older Adult's Home
Tips To Help Your Parents Decide if Downsizing is right for them
(Visited 1,216 times, 6 visits today)