****Visit our "Disclosure Policy and Cookies" for details. Affiliate links appear on this page from Google Adsense, Amazon, Order Out of Chaos, Impact affiliate members, Release, Repurpose, Reorganize, and Shareasale affiliate members.****
We refer to downsizing a home as a bad thing. Your kids are out of the house. You can't keep the home clean anymore. You can't afford to stay in the large empty house. But, if you change your attitude and downsize before you need to, it will be a positive change on your own terms.
It is important to let go of things that do not need to be with you. Those shoes from your grown child when they were a baby. Will they want an old pair of shoes? I think not. Letting go of unused and unwanted items in your home will make room for the things you want to have around you. It will help you clear out any distractions and help you focus on what you want.
Jump to:
Signs You Need to Downsize:
If you don't know if you are ready to downsize, check out these signs that will help you decide.
Your family has acquired other areas of their home. Each person has their own bedroom, of course, but they also have different areas like the basement, a game room, a garage, etc...
The home is too big for you to maintain. If you see things break and don't have time or money within a year to repair them, the home may be too big.
Does your retirement savings need a boost? You may need the equity for retirement.
Your neighbors are moving out, and you start to feel isolated. Isolation is one of the health issues when people retire. You may want to move to an area that has more people and support.
You have extra rooms you are not using in your home. Did you have kids and other family members, and now those rooms are empty or filled with stuff? You may have too many rooms.
The desire to live in a different area is starting to encompass your life. Are you researching different areas online? Did your kids move to a different area, and you want to be close to them? These may be signs you need to downsize and relocate.
If any of these signs are how you feel right now, it is probably time to downsize.
Downsizing to a smaller space doesn't have to be a bad thing. Think of it as a means to help you move to where you want to be. Here are reasons to downsize and the benefits of downsizing your home.
Reasons to downsize your home:
1. Not enough time to do all the chores that need to be done to maintain the house.
2. Your business has changed, and you need to change the space.
3. You want to reach the goals you set for yourself.
4. You do not use extra space anymore.
5. You may need one level, not two.
6. You want to get rid of stuff to be a minimalist.
7. You want to change your life and focus on something else.
8. A smaller home in a busier area is more your speed.
Benefits of downsizing your home:
There are lots of benefits to downsizing your home. Below are just some of them.
Being able to clean the house quickly compared to larger homes.
Less to clean each day and weekly.
It takes less money to repair items in a smaller house.
Cost is always the factor. It is no wonder why small homes cost less to maintain.
Smaller space equals a smaller amount of stuff in it.
Before moving into a smaller home, you will probably be reducing the amount of stuff you have. So, you will be starting out like you did when you were a young adult, but with only the things you love.
Smaller homes are generally less expensive.
When looking for a smaller home, you will find that depending on the area, it may even be more affordable to buy.
Helping your children
You are helping your children by downsizing before you get too old or pass.
Less energy to declutter
Decluttering takes a lot less time and energy.
Decluttering doesn't take a lot of time.
Your home will be decluttered more often, so it will be more streamlined and efficient.
You will save more money
If retirement quality of living is your goal, you will be able to save more money to do the things you love to do or other endeavors.
You are not house-poor.
Smaller homes are great for people who want not to feel chained to their homes because they don't have as many things to do at home.
You are helping the environment.
Your home takes less of a toll on the environment. Because of the smaller footprint, it will not take as much oil or gas/electricity to run, resulting in less impact on the environment.
***AD*** from Released Repurpose Reorganize: My List Simplified journal is a wonderful organizing tool for planning a move or a renovation. Use it to corral all the to-dos.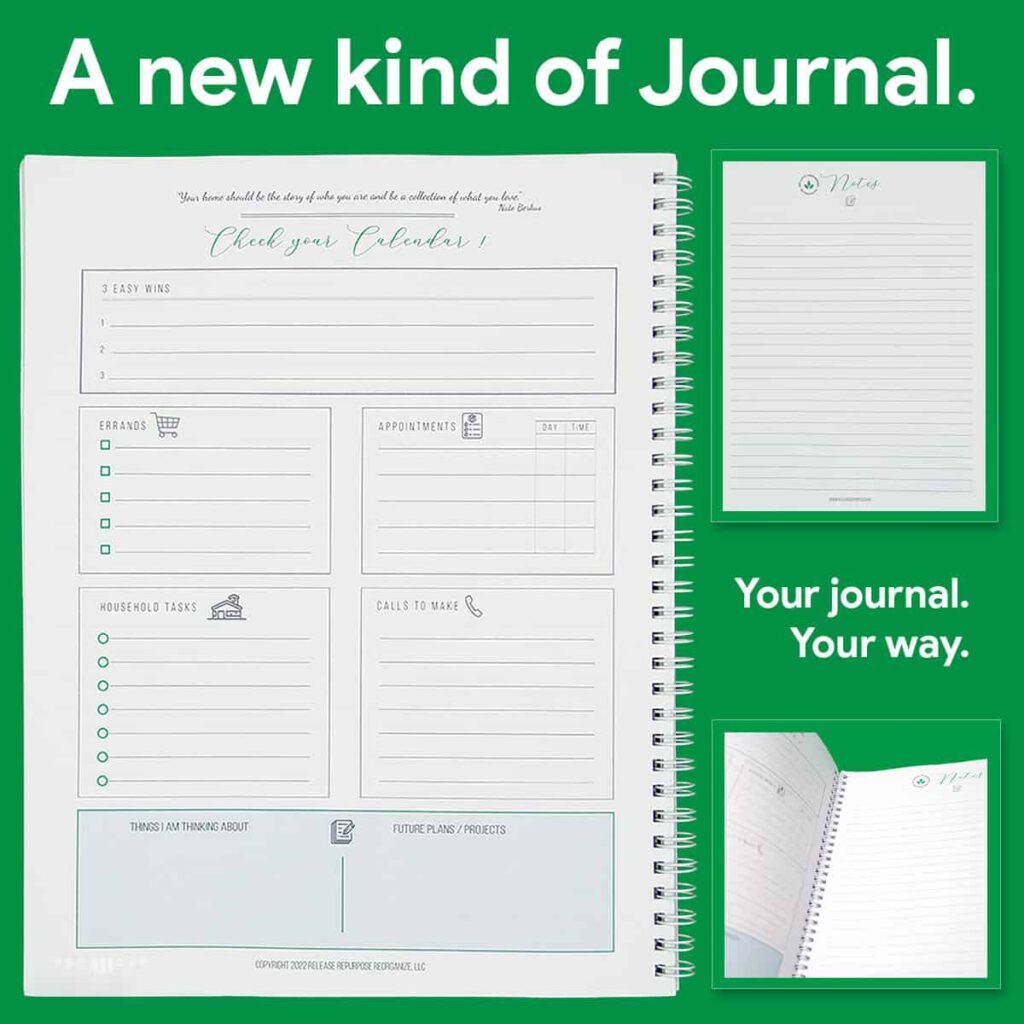 Smaller space, little decorating
In a smaller home, you don't need to decorate as much because it will look cluttered.
More homes to choose from
In the real estate market, usually, you will be able to find a wider variety of options in different areas to choose from.
Have you heard about "The Gentle Art of Swedish Death Cleaning" by Margareta Magnusson? (This link is an Amazon Associates link, if you purchase this book through this link, I will receive a small commission at no additional cost to you.)
Downsizing isn't a bad thing. There are many people I know who downsized to make their lives freer, less about work and more about enjoying themselves. It doesn't have to be a negative statement by any means. Look for the bright side and the benefits of the downsizing process. Think of it this way: your goals are more important than your larger home. To make it a better experience, make the change your decision, not the circumstances surrounding the reason for downsizing.
How can I help? I offer virtual organizing services where I can walk you through the process of downsizing by helping you be more accountable for your things and getting different areas of your home decluttered. Feel free to reach out to me at Virtual Organizing Consultation for an initial conversation to talk about your goals.
Visit our downsizing posts to start your process.
HOW TO DOWNSIZE THE HOME WITHOUT MOVING
HOW TO FIND THE PERFECT HOME WHEN DOWNSIZING
Visit our entire section on our blog for downsizing for other posts related to how to get rid of your stuff.
Where to donate unwanted stuff?
Locations to Donate Your Stuff
RECYCLING LOCATIONS AND SHREDDER EVENTS
HOW TO GET RID OF HOUSEHOLD ELECTRONICS
PLACES TO DONATE JEWELRY YOU DO NOT WANT
(Visited 563 times, 1 visits today)