There are many ways to hide the clutter in your home, apartment, or dorm room. OK, let's not call it "clutter" because these items should be items you need and use often, right? If you don't use them and you don't absolutely adore them, you should get rid of them.  This is step number one when clearing clutter. But for this post, "clutter" will be the items you use and want, but don't want to see, day in and day out.  Here are 6 great ways to hide clutter in your small home.
Hiding clutter tips in small houses
1st Hide Clutter Option: Hang a pressure rod and hang a curtain in front of a set of shelves. I used one blackout curtain to create two curtains to cover these shelves.  I cut them and measured the opening and then created a place for the pressure rod and finished off the bottom edge.
2nd Hide Clutter Option: Use fabric, a piece of wood (2 x 2 inch), a staple gun, and 2-3 screws to hide stuff behind an open console table. Staple the fabric to the piece of wood by overlapping the fabric to create a fuller look. Then, screw in the bottom of the console table.  I used two café curtains here from a discount store.
3rd Hide Clutter Option: Use baskets in closets, on the stairs going upstairs as a catch-all small items bin and other areas to store small items you don't want to see.
4th Hide Clutter Option: Use your largest bag to hold smaller bags.  Or, buy a cheap (large) tote and store all the bags in them.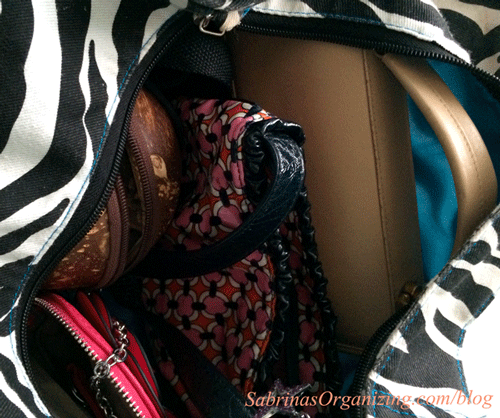 5th Hide Clutter Option: Use fake books fronts and fake cans to store valuables.  Here is one you can buy from Amazon: Key Lock Antique Book Safe (affiliate)
6th Hide Clutter Option: Get doors for your tall bookshelf cabinets. This is great for a teen girl's room since them have lots of small stuff.
Additional Tips to hide the clutter:
Make sure these are items you want to cover in this area.  Be sure to organize "behind the curtain" too. Add bins to use in the hidden area for common small items.
If the items are serving dishes and other platters, be sure to have them covered so they do not get dusty.
Hiding your clutter in a smaller home, whether it is an apartment, a dorm room, or a house, will help space feel larger.  Try it and see. Let me know what you use to hide the clutter in your home. I would love to hear from you.
But wait, here are other posts to keep your small home organized. Feel free to visit other posts about small homes.
Benefits of Living in a Smaller Home
(Visited 5,963 times, 15 visits today)