There are many ways to hide the clutter in your smaller home, apartment, or dorm room. OK, let's not call it "clutter" because these items you do need and you do use often. If you don't use them and you don't adore them, you should get rid of them now before trying to hide them.
To get rid of the clutter, first, visit this post to help you awaken to the clutter in your home before you find creative ways to hide your stuff. This post is the beginning of a three-part series that will help you awaken to the clutter in your home.
Now that you decluttered but still have things out, you may be wondering why you need to hide some of this clutter in a small home.
Jump to:
Why hide the stuff in your home?
People have stuff around the house and don't even realize that the cluttered space can affect them. See the list below of the ways clutter may be affecting you.
It can be dangerous. Your stuff can create a hazard on the floor where you can trip and fall.
The stuff can distract you. It can draw your attention away from what needs to be done without you even knowing it.
Items left out are usually symbols of incomplete actions that will represent unconsciously or consciously how many to-dos you have to take care of in your life. This will result in more stress and will limit you from relaxing. Below is one of my favorite quotes to share with clients.
These are just a few impacts that can take a toll on your life and home. Now, go and clear that unwanted clutter and actions.
Then, come back to this post and start hiding the wanted stuff. In this post, "clutter" will be the items you use and want but do not want to see, day in and day out. Here are creative storage places in a small home you can use to hide your used stuff.
Hiding Stuff Options in Small Homes
Use a Pressure Rod and Curtains
Hang a pressure rod and hang a curtain in front of a set of shelves. I used one blackout curtain to create two curtains to cover these shelves. I cut them and measured the opening, and then created a place for the pressure rod and finished off the bottom edge.
Decorative Fabric Stapled to Wood and mounted to create a curtain.
Use fabric, a piece of wood (2 x 2 inches), a staple gun, and 2-3 screws to hide stuff behind an open console table. Staple the fabric to the piece of wood by overlapping the fabric to create a fuller look. Then, screw the wood into the bottom of the console table. I used two café curtains here from a discount store.
Solid Baskets to hide the items inside
Use baskets in closets, on the stairs going upstairs as a catch-all small items bin, and other areas to store small items you don't want to see. Visit our 12 ESSENTIAL CONTAINER TYPES to see the variety available.
Large Zippered Bags
Use your largest bag to hold smaller bags. Or, buy a cheap (large) tote and store all the bags in them.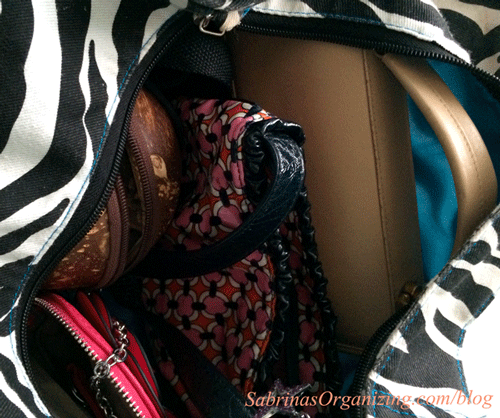 Solid False Fronts to Hide Stuff Behind
Use fake book fronts, fake pots, and fake cans to store valuables. Here are some I found on Amazon(affiliate).
Cabinet Doors In Front of Bookshelves
Get doors for your tall bookshelf cabinets. This is great for a teen girl's room since they have lots of small stuff. Add boxes with lids that fit inside to organize the items even further.
Under the Bed Drawers or Bins
If you have a bed frame, you can easily store things under the bed in zippered or lidded bins to keep them free of dust. They are easy to access and are perfect for those infrequently used items.
Some bed frames have these drawers built into the bed frame itself, making it super easy to organize. Ikea has a large selection of these types of bed frames. Feel free to check them out here.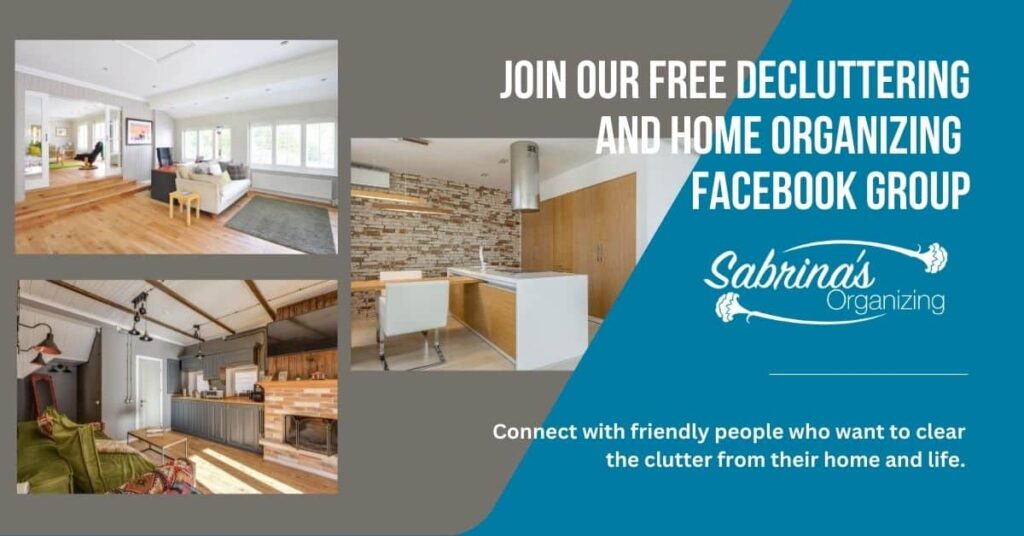 Use the Space Between your Refrigerator and the Cabinet or Wall
Some smaller homes have space between the refrigerator and the wall or cabinet. This is a great place to install a pull-out narrow drawer. Here are some examples from Amazon (affiliate).
Additional tips to help you hide the clutter:
Make sure these are items you want to hide. If I hide these items, will I forget they are there? Some things need to be left out to remember to use them. One example is your daily vitamins. We like to keep our vitamins out to remember to take them.
Be sure to organize "behind the curtain," too. Add bins to use in the hidden area for similar small items. Labeling thehttps://sabrinasorganizing.com/ways-to-decorate-your-organized-space/ different containers works great, so you can easily find the right bin.
***AD*** from Released Repurpose Reorganize: My List Simplified journal is a wonderful organizing tool for planning a move or a renovation. Use it to corral all the to-dos.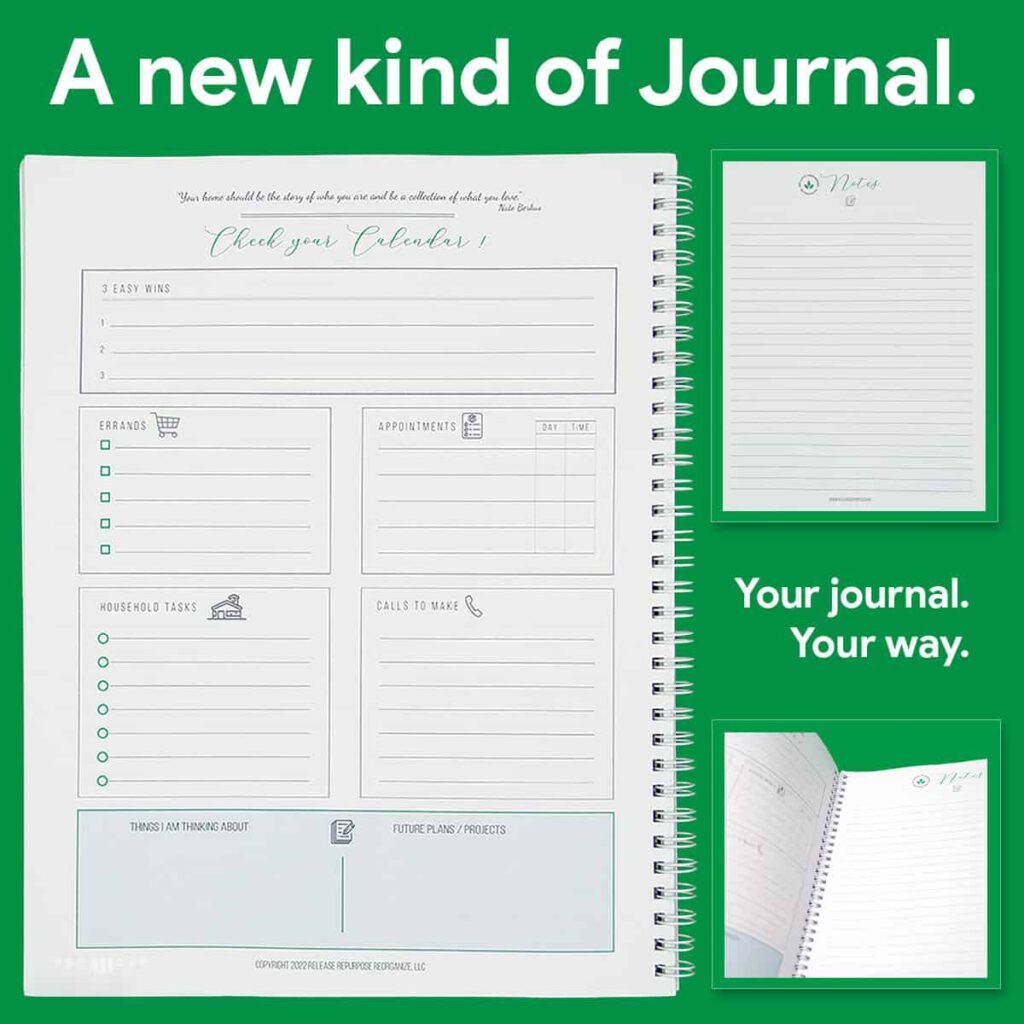 If the serving dishes and other platters are not often used, be sure to have them covered so they do not get dusty. See below things from Amazon.com (affiliate).
I hope these places help you and your tiny home. Remember hiding your clutter will help your room feel spacious, less distracting, and more functional. Try it and see for yourself.
Please leave a comment below on how you hide things in your home. I would love to hear from you.
Below are other posts to keep your small home organized. Feel free to visit ours and other popular posts about small homes organizing and hiding the clutter.
Benefits of Living in a Smaller Home
17 Clever Ways to Hide Clutter in your home
10 Sneaky Ways to Hide all the Clutter
7 Creative Ways to Hide Chargers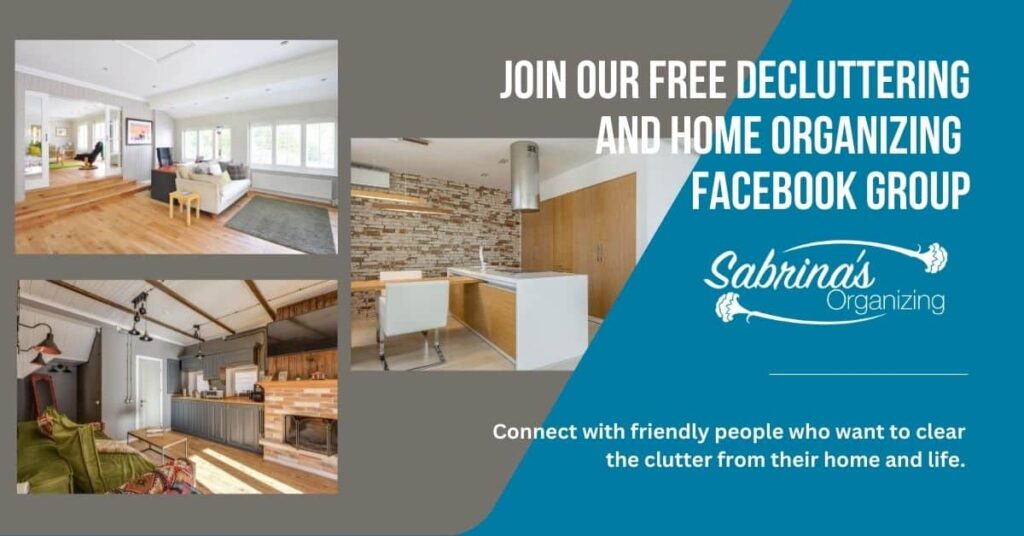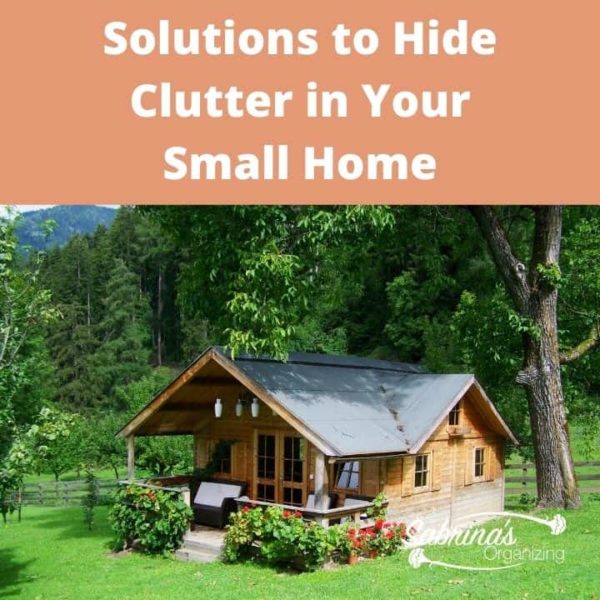 (Visited 13,400 times, 21 visits today)