I am a self-proclaimed genealogist for my family. When I was about 15, I visited Italy with my family and started documenting dates, stories, and family history from various family trips to Italy. Interviewing my grandparents and parents, I created a paper genealogy book and added several details. Over the years, this genealogy book was expanded to include my husband's side of the family and updated to Family Tree Maker software, where we now have nearly 500 family members. When my mother moved away, she gave me all the photos to organize. While going through them, I realized it would be great to make a book for my kids to show them who their relatives were. So, this post will share how I created our heritage scrapbook, and hopefully, it will help you start your own version.
Jump to:
What is a heritage scrapbook?
It is a multi-generational family photograph and mementos. It includes information about their ancestors' family history, culture, and traditions.
Questions to Ask Yourself BEFORE Starting a Heritage Scrapbook
Q1: Who is the heritage scrapbook for?
Q2: How do you want to display the content?
Q3: What is the purpose of making this heritage scrapbook?
Q4: Do you have photos of different ancestors you want to add? Do you want to add pictures of extended family?
Q5: Do you have old papers to gather information and share/cut up to use in the scrapbook? Gather them together.
Q6: Are you OK with cutting them down? Do you want to keep them whole?
**AD**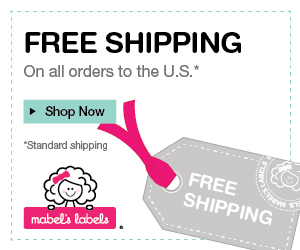 Q7: Do you have other keepsakes you want to add to the Heritage Scrapbook?
After determining what will be in the heritage scrapbook, gather all the items together, and it's time to set up the scrapbook.
Here's how to create a heritage scrapbook.
Divide the pictures, photos, passports, and documents into piles and add a sticky note to each pile with their names. This will give you a starting point for each page(s).
When finished, it is time to assemble the heritage scrapbook pages.
How do I decorate the heritage scrapbook pages?
First, you can use scrapbook stickers like hearts, flowers, city names, and borders, or even design your own with a Cricut Maker to decorate the pages. I did a combination of all of these over the years.
Below are some I found on Amazon (affiliate).
Please note these are affiliate links through Amazon, and at no additional cost to you, I will earn an affiliate commission if you click through and decide to make a purchase.
Start with your immediate family
I started with the immediate relatives and children and worked my way to the extended family.
I started dividing my scrapbook by the families: my side and my husband's side. Then, I allocated at least one page per family member (grandma had a page, granddad had a page, etc...); and, then, when I didn't have enough information on a particular side of the family, I added a general "surname page" for family members. This way, when I placed them on the pages, I could organize them easily.
The first pages can be of the father's or mother's side. Adding extra pages because there will probably be more photos from these people.
Then, move to the grandparents on both sides. One side of each page allows for extra on the backside for interviews, papers, and comments. I added photos and cutouts of things they liked to do. For example, I cut out my father's passport stamps to show all the countries he visited.
The image below shows the layout of the first part of the scrapbook. As you can see, I had the most content (photos, memorabilia, etc...) for my immediate relatives.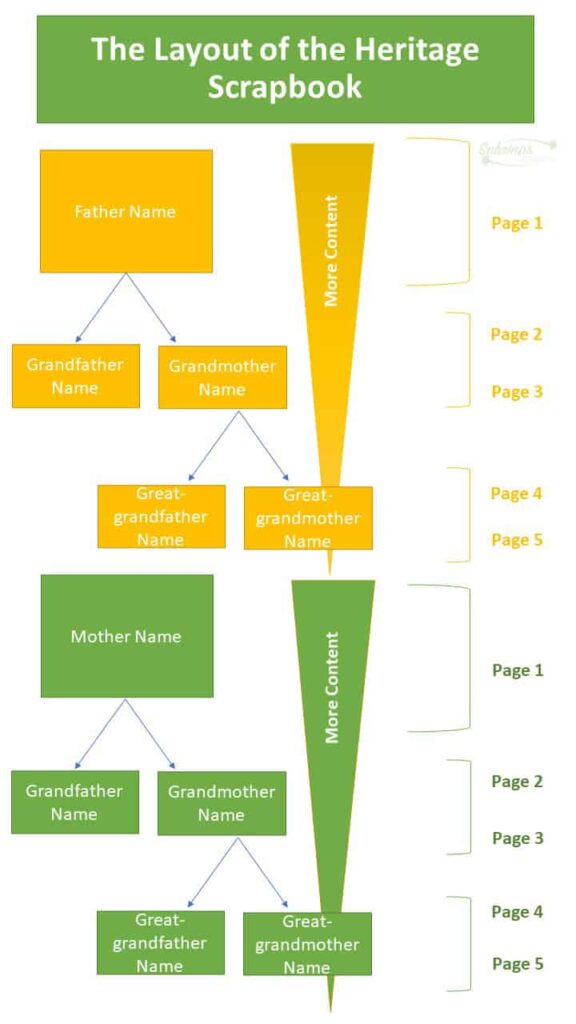 After finishing the immediate family, it was time to add the extended family.
Each extended family (by surname) had at least one page (front and back). I spread the picture enough to add stories, dates, and facts to the pages.
Adding group photos of the extended family works because you can share much information in just one picture.
The following page themes involve life events that you may have just one picture of and want to put together to create a theme page.
Event Photos Pages
Have several photos of particular events; why not gather them together and make a scrapbook page?
You can even create life event scrapbook pages. Some people only have one picture of a couple or group, so theme pages work well for these photos. Here are just some life events you can start with.
The Family Weddings page. Gather all the family wedding photos and add them to a few pages or split them up by family lineage.
Family Vacation page. If a family is on a once-in-a-lifetime vacation trip, you can create a page just for that vacation.
Trips to a particular country that everyone visited. If everyone went to Italy or Greece, gather the group pictures of those who went to that country and share them on a page.
A vacation home family trip page. If a family has a vacation home that everyone visited, you can add all the photos from the families that visited the house over the years.
Creating photos for life events gives the page a purpose, even though the pictures may be of different times. Be sure to include the date, name of people, and where they were if you know.
Add Title Pages to Divide the Scrapbook.
If you want to divide the book into sections, you can create a title page in the scrapbook. Some title pages could be.
Add a page that holds the kinship report for the recipients.
Printing out a kinship report from your ancestry app places the list of relatives in order by relating to the heritage scrapbook recipients. You can even number the report to correspond to the pages so that the reader can see what relationship that person has with the people in the photo. For example, Number 6 was my mother's photo, so wherever she was, I added a number 6 above or below the pictures so my kids would know the person.
Now I was ready to number each person about what it said on my Kinship report.
How to number the kinship report list?
To make it easier for each reader to figure out their relationship with the people in the photo, we added numbers next to each picture to reference them in the kinship report by adding the number near the person's name.
A page that shares the two family names.
For example, "Morresi and Quairoli" would be on one page. The pages of the Morresi and Quairoli families would be behind this title page. This would divide the family unit from the other family.
Now it is time to add Stories to the Scrapbook Pages.
To make a scrapbook informative and enjoyable, add stories to help you. A genealogy expert Hazel Thornton wrote an excellent how-to book called "What's a Photo Without the Story? How to Create Your Family Legacy." Feel free to buy it on Amazon (affiliate). You can buy it in paperback or on Kindle. It discusses various ways to write a story, from low to high effort. She even has questions to help determine what to include for each photo. And even if there is no information about the photo, she shares some tips on figuring out what the photo is related to. Plus, you may need lots of other information and tips when working on your photos.
Note: this process of adding stories takes time. I haven't gotten through all my photos and scrapbook pages yet. But I have started and will be continuing this process.
Other tips and information:
Here are some tips to help you when making your heritage scrapbook.
Use only one side of each page for each family member. That way, you have some space on the back if you have more information.
Use a larger scrapbook; it will give you more room to add photos and stories. A legal paper size works great.
Make sure the pages are sturdy. I had a scrapbook where the pages were very thin, and when I started to turn them, they started ripping out of the book.
Updated in 2023: Ask living ancestors questions, write down the responses, and then add to the book.
Add these questions and the ancestor responses to your scrapbook. Below are some questions that may enrich your family's stories.
Q1: What values and beliefs did your parents teach you?
Q2: Did your parents discipline you when you misbehaved? How did they do that?
Q3: What did you want to be when you grew up?
Q4: Did you have a favorite subject in school?
Q5: What was special about your childhood home?
Q6: Which holiday traditions did you have when you were a child?
Q7: Did you have pets? What were their names?
Q8: Where did you meet your husband?
Q9: How did you get into your career?
Q10: What did you love about your parents?
Q11: Did your mom or dad cook special meals that you loved?
Q12: What did you do when President John F. Kennedy was shot, D-Day, Pearl Harbor, or 911?
I hope these questions help you enrich your storytelling for each member of your heritage scrapbook.
Check out the video to see how my scrapbook was created. I didn't share all the pages because some personal information was on some of the pages.
Now it is your turn! What would you add to your heritage scrapbook? Please leave a comment below.
Please visit some of the related posts below for more inspiration and ideas.
7 EASY HOME MOVIE ORGANIZING TIPS
HOW TO IMPROVE A SCRAPBOOKING CABINET ZONE
HOW TO MAKE A STANDING SCRAPBOOKING STATION
WHAT MEMORABILIA TO KEEP TO HONOR LOVED ONES
8 AMAZING IDEAS TO HONOR YOUR MEMORABILIA
Please note these are affiliate links through Amazon, and at no additional cost to you, I will earn an affiliate commission if you click through and decide to make a purchase.
Visit our other keepsake organization ideas!
Visit our other popular posts below!
(Visited 2,847 times, 178 visits today)