This week's home craft organizing project features another one of my picture frame jewelry organizers. This one is particularly for necklaces and hook earrings. But you can also use hooks to hold bracelets. It's a true focal point of any room or walk-in closet. Read on to see how I made it.
Jump to:
Stuff you need to make a necklace organizer picture frame:
Wooden paintable frame 8 x 10 inches opening - the link is from Amazon (affiliate)
9 x 11 inches square wire cloth
Fabric flower or flowers - this link is from Amazon (affiliate)
4 gems
Hook for hanging the picture frame
4 Felt pad 2 inches wide
5 Small 1-inch S Hook
Tools needed:
Magnolia Antique Rose Chalk Paint
Magnolia Clear Wax
Hot glue gun
Staple gun with shallow staples not thicker than the wood
Paintbrush or sponge brush
Hot glue and a hot glue gun
How to make this necklace organizer picture frame:
If you want to sand the wood, feel free. My frame was new, and I purchased it from Michael's, so I didn't feel it needed to be sanded. I got to work painting it with Magnolia Antique Rose Chalk paint. With a paintbrush, I painted the front of the picture frame, let it dry for an hour or so, and added a second coat. I then waited a day and added Magnolia Clear Wax to coat the paint. Beeswax or any wax will do.
I then cut the wire cloth (square style) 1 inch bigger so that it would overlap the wire cloth with the wood frame. This helped keep the wire cloth intact after I stapled the wire cloth. I stapled every 2 inches all the way around the back of the frame to keep the wire cloth tight.
Add the adhesive felt pad
to the corners. this raises the picture frames from the wall, which will help give enough room for the hooks to be removed easily. It will also help to attach the hook earrings as well.
Add a hook to the center top of the back. I particularly like these hooks because they are very durable and have screws with them.
Add with a hot glue gun
the fabric flower and the 4 gems. Feel free to add more gems if you want. I felt that the flower was too pretty to take away its attention using a lot of gems around the frame.
With the S hooks, using pliers, pinch one side of the S hook. This will help keep them on the chicken wire.
**AD from Cricut Maker**
Necklace Organizer Picture Frame Reveal
Here's the finished project. What do you think? I hung it in my daughter's room so she could place her jewelry on it. It's great for your favorite college student while away from home. What a pretty thing to give to your daughter or mother! Do you agree?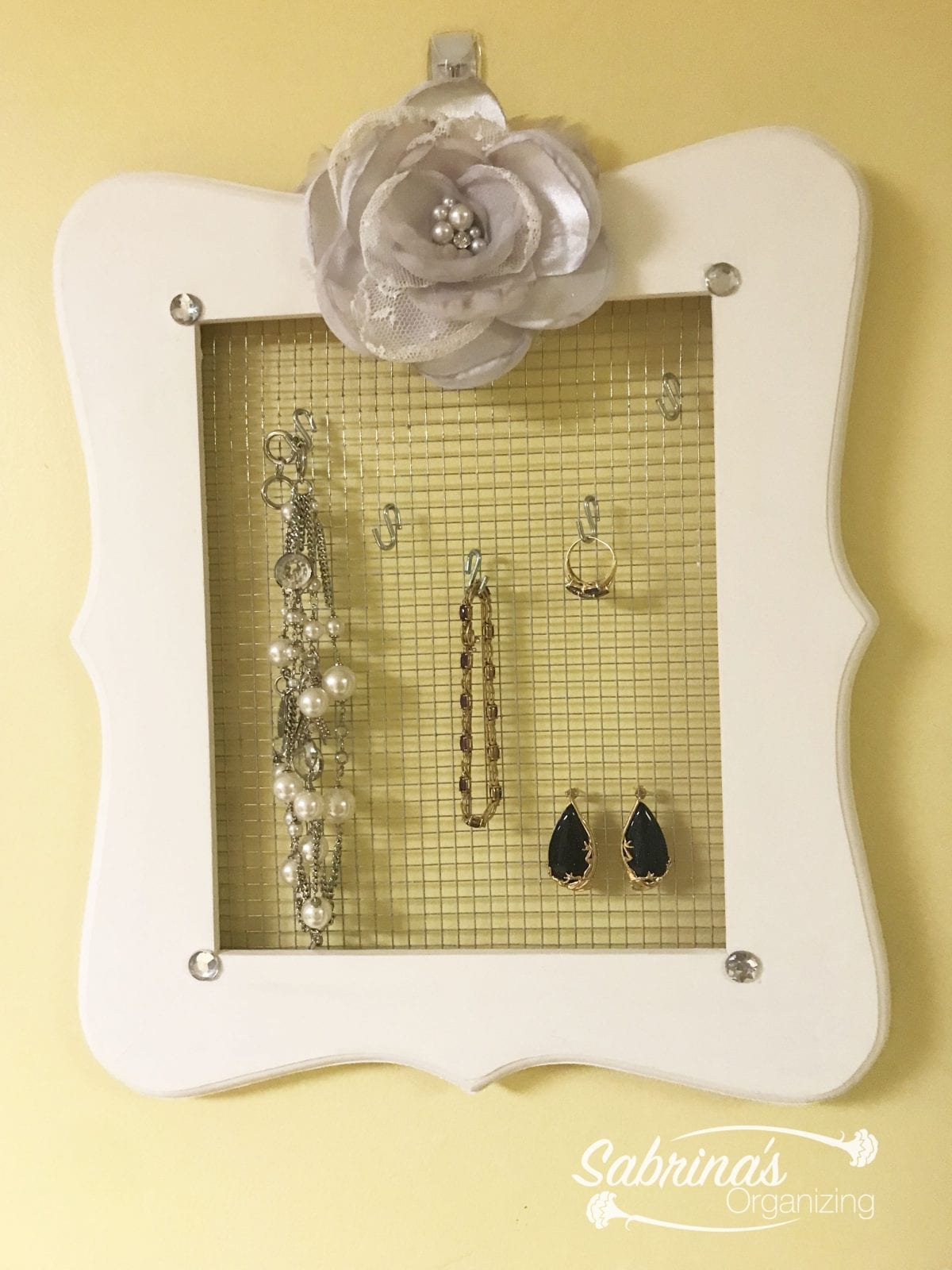 Visit our other DIY Home Organizing Craft Projects by clicking here.
(Visited 695 times, 1 visits today)