For this year's Get Organized Month #GOMonth, I created this 31 Days of 15 minute organizing list and tips. This list is ideal for the busy person who doesn't have loads of time to organize their home, but their goal is to get organized in their home and simplify this year.
By going through this list each day, you will be well on your way to getting organized. Also, check out the links from other posts I wrote on a particular topic.
DAY 1: Gather unused organizing items and place in one location to use for future organizing project.
These items will give you a wonderful collection to choose from when you start organizing each day.
DAY 2: DS/Wii/Xbox/PlayStation games
Donate any unwanted /unused games. Get a bin to sort them.
DAY 3: Pencils and pens drawer in the kid's room
Sort them into bins for them to access quickly.
DAY 4: Vanity makeup drawer
DAY 5: First aid kit bin
Put all supplies together in one container.
HOW TO MAKE A DIY FIRST AID KIT FOR THE HOME
DAY 6: DVDs / CDs sorted
Purge any you don't want. If you have a little more time, you can try this.
***AD*** from Released Repurpose Reorganize: My List Simplified journal is a wonderful organizing tool for planning a move or a renovation. Use it to corral all the to-dos.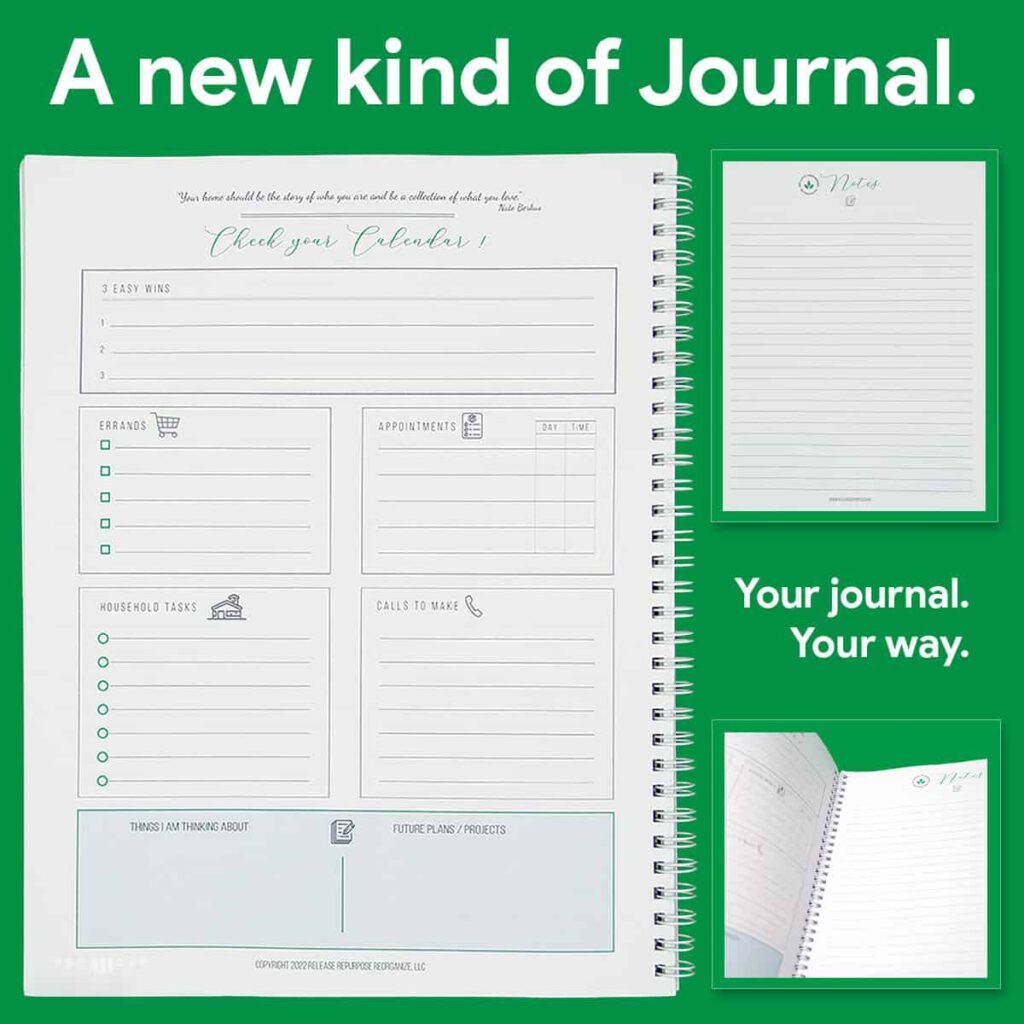 DAY 7: Supplies for home office
Go through and organize things like paperclips, staples, post-its, printer cartridges, etc…
15 THINGS TO TOSS FOR A STRESS-FREE HOME OFFICE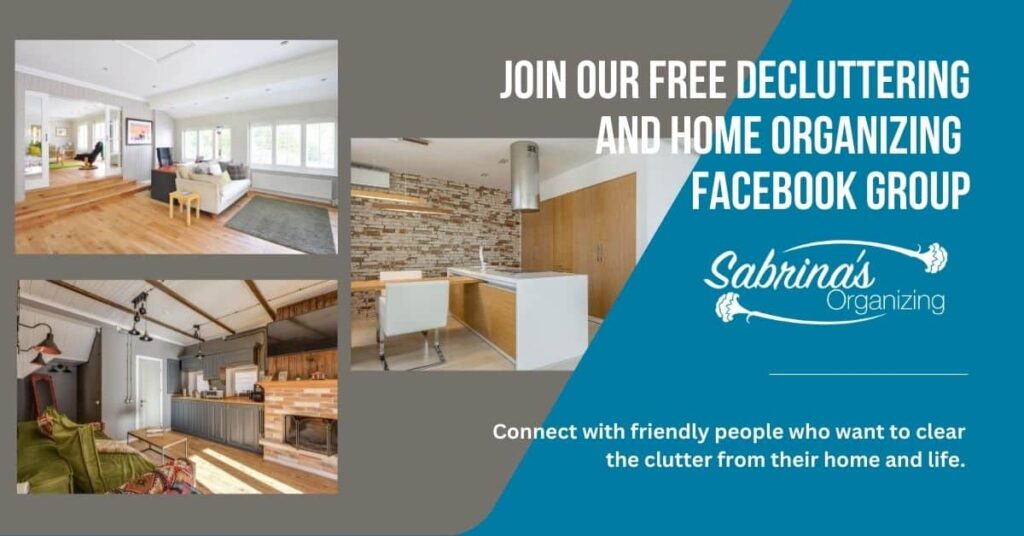 DAY 8: Utensil drawer
Sort your drawer by typing in an organized bin.
DAY 9: Cable bin
Group cables together and store them in a closed container.
DAY 10: Under the bathroom sink
Here is a post that shows what should be under the sink.
DAY 11: School supplies
Sort out your pencils, pens, colored pencils, etc…
SCHOOL SUPPLY ORGANIZER FOR HOMEMADE EASY
DAY 12: Car divider conceal
Clean out any trash you don't use.
24 USEFUL ITEMS FOR YOUR FAMILY'S ORGANIZED CAR
DAY 13: Junk drawer
Throw away trash and group items get bins to organize things. Check out what should be in a junk drawer post.
DAY 14: Hang picture frames to remove clutter from the floor.
HOW TO MAKE A FABULOUS PHOTO WALL COLLAGE
DAY 15: Bathroom vanity drawer
Visit these posts for tips and ideas.
WHAT TO KEEP IN A BATHROOM VANITY
DAY 16: Reference Books organizing
Remove phone books and other dating books that are not used.
Are you hanging in there? You can do it! These 15 minute organizing tasks are pretty easy!
DAY 17: Nonfiction/Fiction book organizing
Pull books that are ones you haven't looked at in over two years.
DAY 18: Paper supplies and recycling any paper that you are not being used.
If you have a craft area that needs decluttering, this is the day to review them.
DAY 19: Kids books organizing
Have the kids sit with you and go through their books to donate to children in need.
DAY 20: Garage donating items
Get rid of items in your garage that you are donating.
DAY 21: Organize a bin that has random items in it.
Any items that were thrown in a bin and needed to be cleared out but never were gotten to.
DAY 22: Photos Organizing
Get rid of blurry and unwanted photos.
DAY 23: Scrapbook/Craft area
Clear out the unwanted scraps, dried out, and broken items.
DAY 24: Manufacturer manuals organizing
Gather your manuals and use an accordion folder A-Z and file them in by manufacturer name.
EASY WAYS TO ORGANIZE MANUALS AND WARRANTIES
DAY 25: Work space
Go through your desk drawers.
DAY 26: Receipt box organizer
Use an accordion folder to sort the receipts you want to keep.
DAY 27: Bill Organizer
Make a list of bills and due dates while doing bills.
WHAT TO KEEP IN YOUR BILL PAYING STATION
DAY 28: Investment organizer
Make a list of investment names, contacts, and amounts in each account.
HOW TO ORGANIZE IMPORTANT DOCUMENTS IN A FIREPROOF SAFE
DAY 29: Bedroom nightstand
Divide little items into bins so you can reach them in the dark.
BEDROOM NIGHTSTAND ORGANIZING ESSENTIALS
12 WAYS TO MAKE YOUR BEDROOM AN OASIS
MAKING A BEDROOM OASIS CHALLENGE
ORGANIZING A TEEN'S NIGHTSTAND
DAY 30: Linen closet organizing
Group-like items, here are tips from a post I wrote.
WHY YOU SHOULD NOT STORE BED LINENS IN A BATHROOM CLOSET
NARROW LINEN CLOSET STORAGE OPTIONS MADE EASY
THE MOST IMPORTANT THINGS TO KEEP IN YOUR LINEN CLOSET
DAY 31: Pantry organizing
A group like items, add bins for smaller items. These are tips to help you keep in your pantry.
Here is an image you print and use to get you started.
I hope this 15 minutes organizing challenge helps you get and stay organized. Good luck while you go through this process. Leave a message on how it is going. We would love to hear from you.
Please note these are affiliate links through Amazon, and at no additional cost to you, I will earn affiliate fees if you decide to make a purchase.
(Visited 1,677 times, 1 visits today)