****Visit our "Disclosure Policy and Cookies" for details. Affiliate links appear on this page from Google Adsense, Amazon, Order Out of Chaos, Impact affiliate members, Release, Repurpose, Reorganize, and Shareasale affiliate members.****
This is the first part of a two-part series for creating a complete baking zone area. These posts contain checklists that are printable for you to make sure your baking supplies zone is complete. The second part of the baking supplies is your baking tools. Here is the other link post: How to Create a Baking Zone with a Baking Tools List
Jump to:
If you are like me, baking is a big part of the season. I like to give baked cookies/cakes as gifts for clients, family, and friends every year. To make baking easier, having all the supplies in one place is a must. To make sure I have all my ingredients, I created a baking supplies checklist (see below) to help me make sure all the staple items are on hand in my baking supplies zone. This baking supplies list helped me, and I hope it helps you too.
What to have in my baking supplies zone
Variety of food colors
Flour (gluten-free or regular all-purpose or pastry flour or whole wheat or bread flour)
Confectioner Sugar
Powdered Sugar
Light Brown Sugar/dark brown sugar
Oatmeal - flat oats usually
Chocolate Chips - various types
Cocoa powder
Sprinkles for cookies and cakes
Icing boxes or powder
Shortening bars
Oils
Butter - stored in the fridge and usually unsalted
Salt
Baking Powder
Baking Soda
Cornmeal
Corn syrup
Cream of Tartar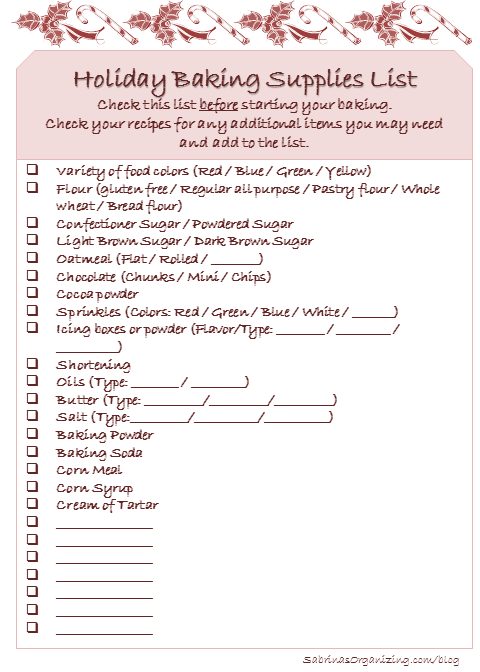 Tips when going through baking supplies zone
The baking zone can get overwhelming, so here are some tips while you go through your baking supplies zone checklist:
Check the expiration dates if there are any on the containers. Make sure items do not smell stale or are hard to the touch. I like to get rid of these things since they usually change the taste of the baked item.
See if any item needs to be replaced and make a list. Do you have enough of each item for your recipes? Go through each recipe and add up the quantities you need to the list. Visit our Easy Holiday Cookie Baking Tips Grocery list to compile these items.
Pull out your most-used recipes and make a complete list of the ingredients necessary for those yearly recipes and use them every year. If possible, do this before the season to get the best deals if you need to repurchase baking supplies. Manufacturers tend to have coupons on these items, and stores tend to run sales on these items in October and early November.
Below are some posts I found online to give you more tips about your baking supplies zone.
10 Super-Smart Ways to Organize All Your Random Baking Supplies
Best Tips for Storing Baking Supplies
Let me know how it goes. Did the checklist help you manage your baking supplies zone? Did I forget an ingredient you use? Please leave a comment below. I would love to hear from you.
Please note these are affiliate links through Amazon, and at no additional cost to you, I will earn affiliate fees if you decide to make a purchase.
(Visited 2,700 times, 20 visits today)