Shoes can easily take over the home. Let's do the math. Say there are four people living in a house.  If each family member has 7 pairs of winter shoes and 7 pairs of summer shoes, that could include snow boots, hiking boots, rubber boots, work boots, sandals, flats, slippers, flip-flops, sneakers, dressy shoes, and high heels. This per-person number is conservative. That means your household has to store 56 pairs of shoes. WOW. It adds up quickly, doesn't it?
How many shoes do you have in your home?
Can you answer this question right now? Below is a photo of our shoes before we created a shoe storage area in our garage that houses most of them. Crazy, right? Our pile is even bigger now as the kids are young adults. Visit the original posts here: Before and After Shoe Organizers and Organized Shoe Station for the Whole Family.
Shoes can be difficult to organize, especially in smaller homes. It can easily take over closets and bedrooms. To make this shoe organizing task more manageable, let's start by getting rid of some unwanted shoes.
First, let's gather all the Shoes in One Place.
It's important to gather them together. Walk around the home and have everyone take all their shoes and bring them to an open area, like a garage floor or living room.
Purge Unwanted Shoes.
Now, sort and purge shoes you do not want or need. Remember: hidden shoes will always be overlooked, so pulling these items out will remind you what you still have and what you haven't used in a while.
But, which one should you get rid of? Below is a list of signs that you can use to help determine what needs to go.
Signs to Get Rid of Unwanted Shoes:
Flattened shoes - Flattened shoes are the ones that were under all the other shoes in your home.
Scuffed shoes - Shoes that were loved and worn heavy but now look like they have seen better days.
Shoes are worn inside - Some shoes show they are getting old from the inside. I have seen shoes worn in the heel area, in the rise of the shoe, or holes on the sides of the inside of the shoes. I've also seen the soles of shoes completely separate. All of these are signs that say your shoes can go.
Uneven wear of the shoes - Shoe shoes may wore in the sole others may wore on the side.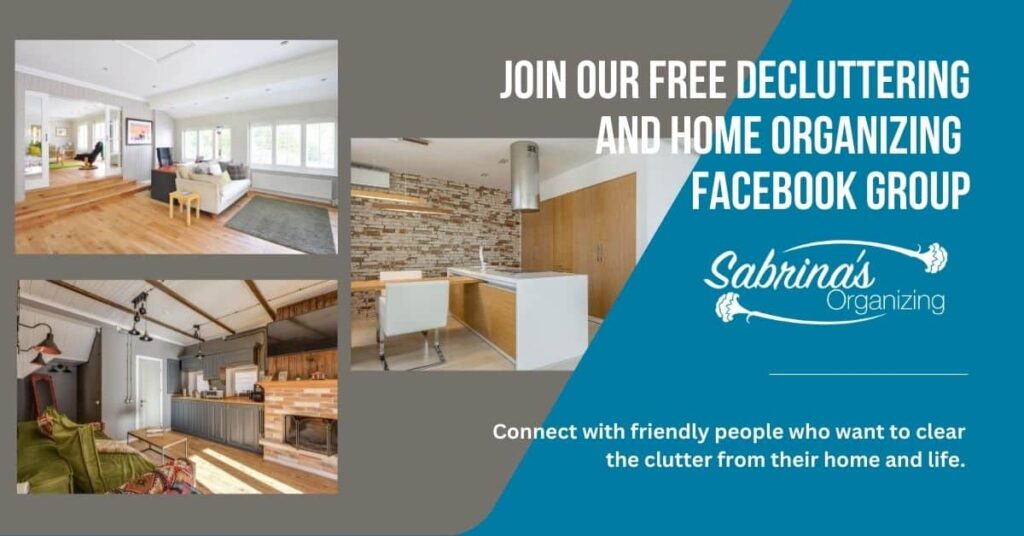 They are still in the box after 6 months - If you bought them for a special occasion and did not wear them, you will need to consider if you will use them in the future. If they were shoes given to you, you might want to determine if they are necessary to keep. Keep in mind, if you haven't worn them in more than six months, it's time to let them go.
Now that you determine what is kept, donated, or trashed/recycled. Visit our Charitable Locations to Donate Stuff and Recycling Locations and Shredder Event pages for more details on what to do next. And, now what to do with the wanted shoes. Read on to get some ways to create a clutter-free organizing system for your shoes.
Unique clutter-free ways to organize shoes.
Let's start by repurposing other things to help you organize your shoes. Below, we discuss clutter-free ways to organize your shoes.
If you want to know how, here is a tutorial on the process by EPBOT. It's a great and easy way to organize those flip-flops in your home.
Armoires and other virtical storage furniture units can be great for organizing shoes.
Look around your home and pick an older armoire or cabinet at least 7 feet tall to maximize how many shoes you can store in them.
Repurpose bookshelves into a shoe organizer.
I have bookshelf tracks and shelves in my tool room since we removed them from my daughter's room. I can easily add these to our garage for extra shoe storage. Below are some examples of bookcases you can use from Amazon (affiliate).
Repurpose your chest to organize shoes.
If you have a chest in your home and it is housing blankets or other infrequently used items in your bedroom, try using this chest for shoes used only for special occasions. Store each pair of shoes in their own shoebox to protect them. Here are some chests I found on Amazon(affiliate) that can be used to organize your shoes.
If you do not have anything that you can repurpose, you may need to buy something. Look for shoe storage products that are easy to assemble and that are sturdy.
Now, It's time to look at your walls to store your shoes.
Look for vertical space being unused or underutilized to eliminate clutter on the floor. 
If you have a spare wall, try doing something like this. Using mounted shallow shelves on the wall can store A LOT of shoes! The minimum depth of the shelves should be 10 or 12 inches and can easily hold plenty of shoes on a wall. Below are some options I found on Amazon (affiliate).
Keep in mind to measure your longest shoe to determine the best depth for your family. And, if you want to hide it, add a curtain rod and dark color curtains from wall to wall.
Use old curtain rods and hang high heels to them to create a great collection of your shoes.
Hang several curtain rods about 3 inches from the wall to allow for the high heels to sit properly. Mount the curtain rods about 12 inches apart vertically and you will have a wall of high heels in no time.
Use 1-inch x 2 inches wood strips and pegs and make your own shoe pegboard.
Mount several of them to your wall to hang shoes. You can modify my Custom Wood Scarf holder DIY post to use for this purpose.
Use the door organizers in your closet to keep shoes off the floor and more likely to stay together.
Using shoe organizers works great for this purpose. Below are the over-the-door organizers I found on Amazon (affiliate).
Use under-the-bed organizers to hide out-of-season shoes.
You can also store shoes under the bed in a regular under the bed organizer bin too. You may even have one of these already. Below are under-the-bed organizers I found for under-the-bed on Amazon(affiliate).
Remember to keep your space clutter-free repurpose as much as possible.  We tend to have products used in other parts of the home that may work just fine to organize the shoes, so go shopping in your house first before spending money.
I hope this post inspires you to get your shoes organized in a clutter-free way. Please feel free to share with others you may know that may need a little help organizing their shoes.  
Now it's your turn, what are your favorite shoe organization tips.  Please share it with us in the comment section.  
Here are some other posts I wrote about organizing these pesky shoes. Feel free to visit.
Organized Shoe Station for the Whole Family
Before and After: Shoe Organizers
Please note these are affiliate links through Amazon, and at no additional cost to you, I will earn affiliate fees if you decide to make a purchase.
(Visited 14,330 times, 16 visits today)