How does your closet look right now? Can you find everything you need to wear when you need them? This is one of the biggest issues I encounter with my clients. Almost every client I have asked me this question. "How can I make my closet look like it isn't a disaster area?" Lucky for them and you, I made a list of items that should be in your organized closet for easy access with tips on how to sort them. These tips will save time looking for apparel and getting ready in the morning! Here are ways to group your closet to make it more organized.
Jump to:
How to Group Your Hanging Items?
Start by determining your like items. Then, group the hanging items by those types. If you have one or two of a particular type, you can add them to another broader group. Keeping the hanging likes together will make it easier to find your favorite kind of clothing.
I separated the hanging items into two different hanger types and added some tips to help you organize them. Note: if you click through the My Amazon Picks and buy something, I will receive a commission at no additional cost.
Belts and Ties - have an area to hang these items. You can sort by event or color if you wish.
Shirts - include sleeveless shirts, blouses, and casual and dressy shirts. If you have a lot of camis, you can group them or place them with the jackets or ponchos you use with them.
Pants and Skirts - keep pants, jeans, and skirts together but grouped in separate sections. If you have limited space, you can use a layered pants hanger that will lay the slacks on top of one another and save a ton of room.
Blazers and Jackets - if you have several, group your blazers in the same area as your jackets. One section for blazers, and one section of this area are for jackets. These items are usually heavier, so use the right hanger for the garment. Wood hangers typically work best for heavier jackets.
Dresses (formal and informal) - if you do not wear formal or informal dresses often, try covering them with a garment cover (not plastic) to help protect them from dust. Also, use a good sturdy hanger for each item.
***AD*** from Released Repurpose Reorganize: My List Simplified journal is a wonderful organizing tool for planning a move or a renovation. Use it to corral all the to-dos.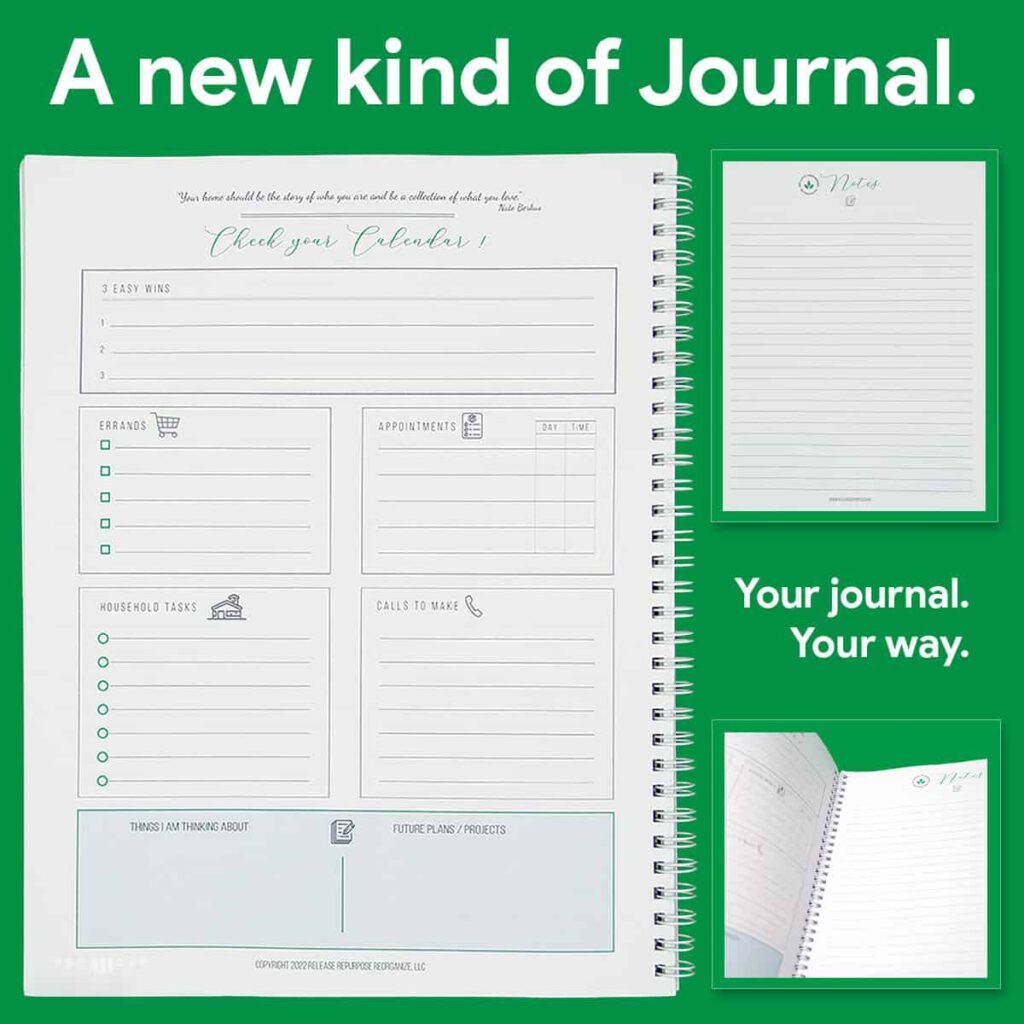 How to store hanging outfits in your closet?
Some people like to hang their clothing by outfits. It makes it easier to find outfits on a closet rod. If you set up your hanging outfits together each week, use a ribbon with the name of the day you want to wear the outfit and tie the hangers together to remind you that all those items on the hangers belong to one outfit for that particular day.
Hanging clothing help save surface space and works well in smaller homes. It also lets you take an item out without disturbing the other items.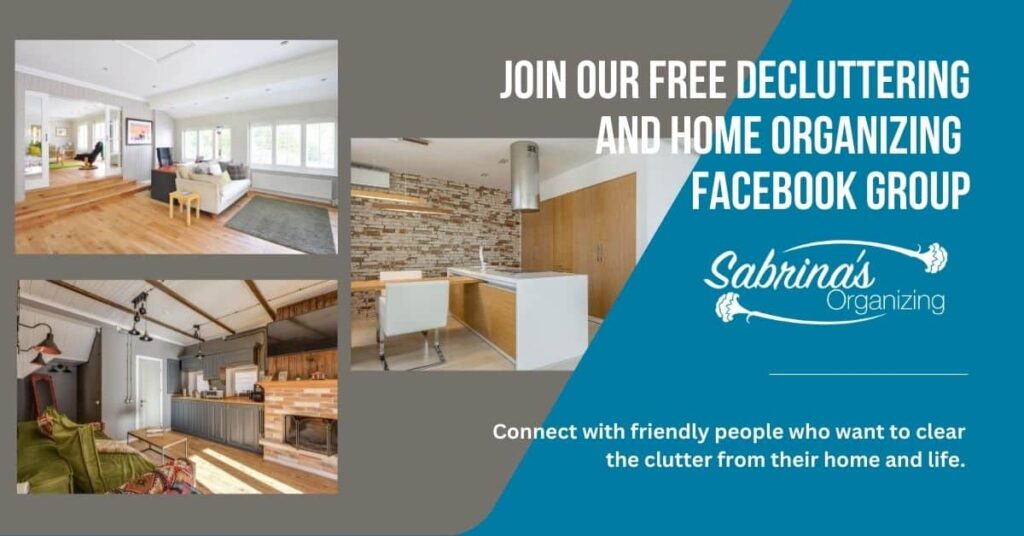 Feel free to check out our other DIY outfit organization posts below and make your own.
HOW TO MAKE CHALK PAINT DAYS OF THE WEEK CLOTHING ORGANIZER
DIY AFFORDABLE WEEK DAY CLOTHING ORGANIZER
HOW TO MAKE REPURPOSED DIY DAY OF THE WEEK CLOSET DIVIDERS
HOW TO MAKE MASCULINE DAYS OF THE WEEK CLOTHING ORGANIZER
If you do not like hanging your clothes, this section will be for you.
How to Group Your Folded Items on Shelves?
Below are the items that should be stored on shelves in a closet if you have the space for them. I divided them into types and added additional tips.
Sweaters - Fold the sweaters because hanging them will destroy the shoulders.
Shorts - Fold the shorts neatly to fit more shorts on one shelf. Then stack them on top of each other.
Pajamas and/or nightgowns - If you like to wear your top and bottom PJs together, place them on the same shelf, one on the other. Then, you will never miss a piece of the PJs.
In Seasonal and Out of Season Shoes - try to get them all in one place. Another option is to only store out-of-season shoes and move the in-season shoes closer to your front door.
How to Group Clothing by Events?
Some people prefer to organize their clothes by an event. Dividing the closet into sections works best for clothing by activity organizing.
Work uniforms - Gather all your work uniforms together, including belts and shoes.
Casual clothes - bring together items solely used for hanging around the house, going out at night, spending time with family, and everyday items.
Workout clothes - Collect items that are only used for workout attire. Place them on a shelf with your workout bag, towel, etc...
Dividing the closet into these sections will quickly allow you to see what you have and what may need to be washed.
How to Organize a Drawer in a Closet?
If your closet system has drawers, you can add these other items—Group the below things in different drawers to separate them. Use as many drawers as you need for the amount of stuff you have.
Hosieries and socks
- You can separate the socks by dark and light or by color shade and hosieries by type or color.
Undergarments - If you have drawers, group them by type and store them in the drawer.
Fashion Jewelry
- Move the shelves up or down to make room for a landing area for your jewelry and watch. Install hooks and a mirror.
How to Color Code Your Closet?
Another fun option is to make your closet look like a rainbow! Start with the brightest shade of color in your clothing and sort toward the dark shade color. Start with the ROYGBIV - red, orange, yellow, green, blue, indigo, and violet. Or you can go from the lightest color to the darkest color.
Well, there you have it! Are you not convinced yet that you can get your closet in order? Below are the benefits of taking the time to organize your area.
What are the Benefits of an Organized Closet?
You may not think that organizing the closet to this extent is essential. But it is! You will be able to enjoy your space so much more. Since the clothing will be hung or folded correctly, you will not have to worry about damaging items prematurely. And you can find what you are looking for in a jiffy. Time-saving is beneficial for anyone who wants to use their closet quickly and move on to something more important to them.
Getting help when you purge a messy closet is OK - no judgment here. Asking a friend or hiring a professional to help will give you the distance from the items and allow you to let go of them easier. No one wants to get an organized closet with things they do not care for. So taking the time to purge before making your organized closet will be essential in creating space and removing waste.
Contact Sabrina's Organizing if you need virtual help in the purging and organizing process.
Want some more inspiration? Visit our closet organization for additional tips below. The CAPITALIZED TITLES are from Sabrina's Organizing blog.
6 STEPS TO ORGANIZE KIDS CLOSETS
20 SIGNS A CLOSET NEEDS TO BE PURGED
4 AREAS OF AN ORGANIZED CLOSET TIPS
THE ULTIMATE CLOSET ORGANIZATION TIPS FOR SENIOR CITIZENS
5 SUPER IMPORTANT MENS CLOSET ORGANIZATION TIPS
THE BEST WAY TO ORGANIZE CLOTHING DURING THE FALL MONTHS
18 Closet Organization Ideas You'll Want to Steal Immediately
20 Smart Ways to Organize Your Bedroom Closet
Please note these are affiliate links through Amazon, and at no additional cost, I will earn affiliate fees if you decide to make a purchase.
(Visited 5,300 times, 9 visits today)