Many people have time management issues. You may have to say no to some of the requests to make time in your daily schedule. This post talks about the benefits of saying no and examples of how to say no to free up your time and energy for other important tasks.
It is OK to say "no." >> Five Ways to Say No to Save You Time
Click To Tweet
You don't need to lie or give people excuses for why you are saying "no" to their request. You have the right to want to do something; if you don't, you can refuse. But how do we do that without feeling guilty or upset that we are hurting someone's feelings?
Jump to:
The Benefits of Saying No 
Did you know there are benefits to saying no? It's not just that it gives you your time back. It also gives you the freedom to make your own decisions in your life. It empowers you to move beyond the demands in your life to a place where you can control what happens in it.
Below are the benefits of saying no to value your time.
It allows you to value yourself.
Saying no helps you balance out your mental health.
Create more self-esteem and confidence.
It creates a better work-life balance when you create boundaries.
Allows you to add more personal life tasks you love to your calendar.
It will help you be more honest with others.
Questions To Ask Yourself Before Saying No
Ask yourself these questions when you are approached with a request to help you determine if you want to say no.
Will you need to give up something else to do this new request?
How long will this new request take, and can you do it?
Do you fully understand the request? Do you need more information?
Am I the right person to do this request?
If I do not do the request, will it matter in the future (one week from now, a month from now, or a year from now)?
Will this task continue if I say no?
What's in it for you?
Will you have the energy to do the task?
When will I do these new tasks?
How do you feel about the request? Does it feel uncomfortable? Do you feel pressured to do it? Knowing these feelings will give you more direction if you want to say no.
If any of these questions result in a resounding "No," take action using the example statements below that closely relate to your situation.
Write a no-statement list.
Now that you can see the ample benefits of saying no and the questions you can ask yourself before saying no, you may want to create no-statement responses to empower you when a request arises.
Write down three or four predetermine in your own words 'no' responses that are sincere sentences to use in the future, especially if you haven't said any before. Here are examples of saying no politely.
Saying "no" polite examples
To feel more comfortable saying no, start with small, unimportant requests that add to your workload. Start by saying no to the small requests from kids and family members.
When you are ready to 'say no' more often, check out these examples below and create an arsenal of no statements to help you.
Saying no to your boss statement examples:
Polite ultimatum: "Saying yes to this means I have to say no to something else...what tasks are more important?"
A request that doesn't fit in your day: "Thank you for thinking of me. Unfortunately, I am at capacity right now and cannot give the project 100%."
Unrealistic deadline: "I would love to help, but given my other work, I won't be able to look at this ... until ..... (next week, next month, etc..)
Saying no, but still helping out statement examples:
"Thanks for thinking of me though I can't help you now. May I help you find someone else?"
"Now isn't a good time for me. If my schedule frees up, I will let you know."
"I've done that a lot already; let's give someone else a chance."
"That's not right for me; let's look at something else."
***AD*** from Released Repurpose Reorganize: My List Simplified journal is a wonderful organizing tool for planning a move or a renovation. Use it to corral all the to-dos.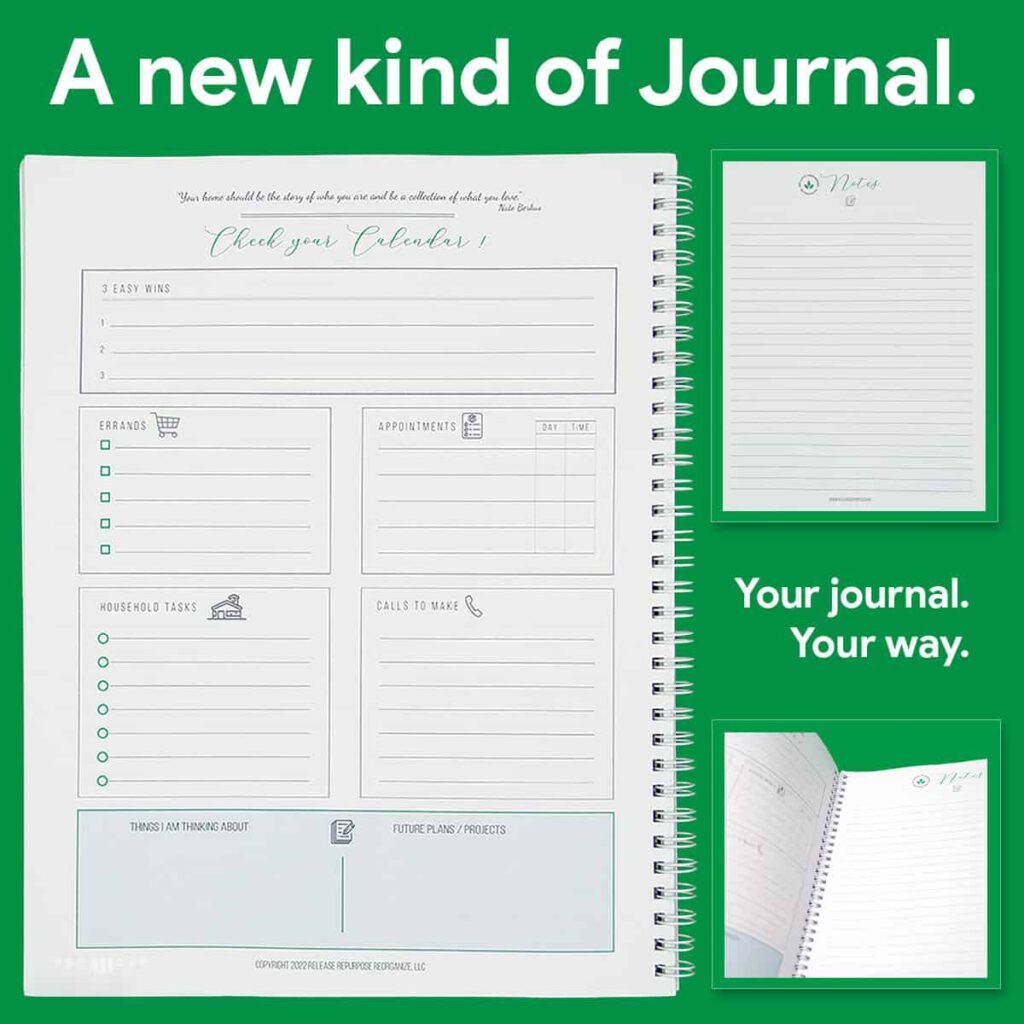 Saying no, but thank you statement examples:
"I think your suggestion is great; sorry, I can't participate now."
"I'd love to come over, but I must decline. Thank you for thinking of me."
"I'm not taking on any other work right now. But thank you for the offer."
"Thank you, but I'm good. I appreciate the offer."
A positive statement, then a no statement, ending with positive statement examples:
Saying a positive statement, then a no statement, and ending with a positive statement works nicely.
"Thank you for the invite; I appreciate it. However, I won't be able to make it. Please invite me next time!"
"Wow, this offer is a great opportunity. However, I must decline. Please consider me for the next project."
For people who don't like the word no.
You may need to be more brutally honest with them if they are persistent. Try this statement, "If I take on another task, I wouldn't be able to complete my tasks for my ________________. I'm feeling overwhelmed right now."
Or you can be even more honest, "I've been too busy at work lately. I will have to decline this time to be able to take care of myself."
If the request is too personal, you can say, "To respect my privacy, I will have to decline the offer."
Still feel nervous about saying no; get an accountability buddy.
If you feel nervous about how to start saying no, ask a friend or family member to be your accountability buddy. This is your go-to person for questions on what to say to the request the other person is approaching you with. This person can be your sounding board to determine your decision on a request. It will help immensely until you feel more comfortable saying no.
Whatever you decide to do or not do, be sure you have an honest reason for not wanting to do something. Having healthy boundaries is your right as a human being; understanding your boundaries will help others understand you. Try them out and see if they help save time and your sanity. I hope this post helps improve your quality of life and manage your time more effectively.
Visit these posts from other experts that will help you say no in your busy life.
How to Say 'No' To Others (Without Feeling Bad About It)
And, How to Say No: Guide for Busy People
How to Stop Saying Yes When You Want to Say No
How (and When) to Say No to the Boss
Please note these are affiliate links through Amazon, and at no additional cost, I will earn affiliate fees if you decide to make a purchase.
Below are some other self-care posts that may help you!
(Visited 638 times, 1 visits today)