****Visit our "Disclosure Policy and Cookies" for details. Affiliate links appear on this page from Google Adsense, Amazon, Order Out of Chaos, Impact affiliate members, Release, Repurpose, Reorganize, and Shareasale affiliate members.****
Do you wish you had donated more items last year? Do you want to the items be tracked more efficiently? If your goal this year is to give things away and want to make space in your home, this post is for you. These days not everyone gets a deduction for their charitable contribution, but it doesn't matter if you are like many people. Not all things need to be given to a charity or second-hand store. Some items can go to a fundraiser, family member, or friend. But, we all store donation items in one or more areas of the home before giving them away. Some people store them in a basement, others in a garage; wherever the items are, we need to keep them organized to know what to do with them. This post will help you organize donation items in your home before donating them.
Jump to:
How to manage your donatable items BEFORE giving them away
Whether you are donating to a charity or giving the items to family and friends, before donating these items, gather them up and follow these tips when organizing your donation items.
Place donation items in bags for easy carry and stacking.
Some people may have issues carrying certain items; using paper or plastic bags with handles work nicely for them; others prefer trash bags with pull tabs. If the items do not fit, try a reusable bin. After dropping the items off, take the bin back to refill if needed.
Label the bags.
Each bag should be labeled to say the receiver's name on it. It could say, "Give to Goodwill," "Give to Aunt," or "Give to <<name>>." Labels help remind us what to do in case we forget. You can use a paper sign with the "give to" name and tape it on the bag. Or, write it directly on masking tape or Duct Tape strip adhered to the bag itself. You can even use a Jumbo Sharpie Marker
(affiliate) and write it on the bag itself. Make it visible, so you know exactly where it is going.
Find a place in your home for the donation items bags.
We can't always rush out and donate the items right away. So finding a place in your home to store the items is essential. Make the location a spot where only these items go. No other thing should have a home in that spot. A garage or in-car trunk works nicely. Near a door works well too. It forces you to get rid of it quickly. If the items are delicate, you may want to put them in an area with temperature control, like a hallway or hallway closet.
Are you donating these items to a charity?
Below are tips to remember when organizing items to donate to a charity.
Be sure to list all the things you are donating to a charity.
Describe your donated item in detail. Include information like the manufacturer's name, size, type, and color of the items.
If you are tracking them for your tax return deduction, do this task before bringing the items to a charity.
Find the fair market value of each item donated and write it down next to each item on your list. Click here for more information about determining the Fair Market Value from the IRS. I've used the app Turbotax ItsDeductiable to determine the fair market value. It is a Charity Donation tracker app.
Keep the receipt with the list of donated items.
If you get a receipt from the charity, be sure to staple the charitable donation receipt to the completed donation items list.
Place the charity paperwork in a place with your current year's taxes.
Then file and keep the receipt and list of donation items in a tax folder for the end of the year.
Donation Tracking Sheet Printable
Here is a Donation Tracking Sheet to keep donation items organized.
It is a straightforward format, and my clients found it easy to fill it out. It also helped determine the value of the donation to the particular charity. Feel free to check out our "Charitable Locations to Donate Your Stuff" Page, which lists a variety of places all around the U.S. according to the item(s) you want to donate.

You can create a sheet to use when you need to donate something or print this out for each donation trip.
Take action and get it out of the house!
Now that you found a place for them in your home don't let them stay there for long. Give yourself a deadline. Mark the donating item action on your calendar and set a notification for that appointment. Schedule the visit within one week. Doing this should give you enough time to fit it into your schedule. The longer you keep it in the house, the more likely you will forget about it and start decaying.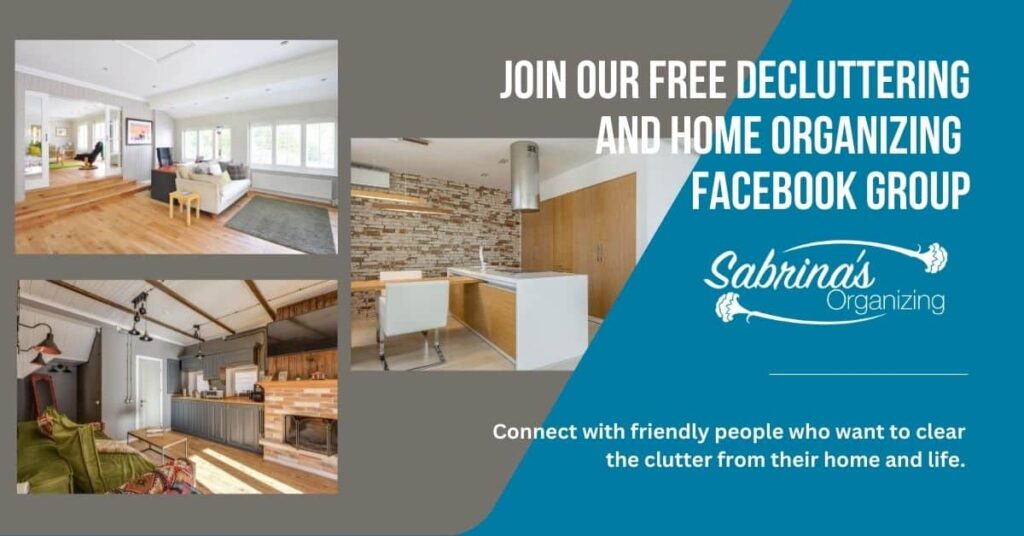 That's it! By doing these steps, you will be well on your way to tracking and organizing donation items. Do you have a place where you store your donation items? Please leave a comment below. I would love to hear from you. I hope this helps you to organize donation items better and help you get them out of your home more quickly. And, hopefully, they will still be in good condition so that the next person can enjoy them.
Please note these are affiliate links through Amazon, and at no additional cost, I will earn affiliate fees if you decide to make a purchase.
(Visited 2,604 times, 4 visits today)