Making choices have been on my mind lately. We make daily choices, from what to wear (the easier decisions) to what direction we should take our career (the more difficult questions that aren't as easy to answer). Some choices we wish others would make for us. And some choices we wish to make ourselves. This post talks about the art of making choices and the struggles you may experience when you want to make a choice, and methods on how to combat indecision.
Jump to:
The difference between choice and decision.
A choice is a noun that means an option. It is something that comes from a desire you may have. It can also come from an intention you have. The choice can also come from values and beliefs that you inherited from your parents or developed on your own as you grew. It is more of a gut reaction from known or unknown sources.
A decision or choosing is a verb. A decision is an action; you decide on what to do. It is in your power to decide. A decision is a result of reviewing the choices, analyzing them, and determining if the consequences are acceptable. The mind helps with decision-making.
Three Lecture Videos about Choosing
While researching the topic of choosing, I came across these three wonderful videos that really hit home on the art of making choices. There is so much great stuff that it is better to listen to them yourself to really get the information firsthand.
Note: These videos are not short. They range from 10 to 20 minutes long. You can listen to some or all the videos or view them on YouTube and save them for later or come back when you have time to watch them.
This talk is so empowering. Sheena talks about how we make choices and how we feel about the choices we make. She talks about unimportant and life-altering choices, and she shares her research about choosing and how different countries have different viewpoints on choosing.
How To Make Hard Choices by Ruth Chang
The big choices in your life are harder to make than those everyday decisions. This video discusses how we make these decisions and how the decisions influence our lives.
"Hard choices are not a curse, but a Godsend." ~ Ruth Chang  >>> from How to make hard choices Youtube video.
Click To Tweet
Sometimes It's Good To Give Up The Driver's Seat by Baba Shiv
This talk was about how sometimes decisions made for you help you get through the trauma. Is it better to have decisions done for you, or is it better for you to make all the decisions? It's a great question to ponder. Watch the video and see for yourself.
What type of decision can we make?
We may make a decision to eat at a fast food place. Or, maybe we decide to make dinner at home with wholesome ingredients. We may decide to spend money on small unnecessary things and forego saving money for retirement. There are many choices out there that may be beneficial to you or may not be a great choice. It's all up to you and what you decide in your life.
Why do we struggle to make decisions on our choices?
Some people may not want to make choices at all or delay the choices beyond the deadline. They may be fearful of the unknown. Or, lack of information makes them feel less confident about the choice out there.
People may also feel that if the choice is not perfect, it won't be exactly what they want. These people are usually perfectionists, which can result in additional feelings of anxiety, depression, and even burnout in their lives.
Some people may not want to make a decision because they feel they will be upsetting others. And they don't want to make a choice because of the outcome.
In an article on Psychcentral.com, they talk about how the root of indecision can come from parental influence as well. Visit to read more struggles with indecision here.
Making no Decision is a Decision
I recently worked with a client who a former client approached to help her with a third-party group she was working with. As we discussed the situation in our virtual consultation, it became clear that there were missing answers to questions she had to help her make the decision. So we concluded to do nothing. And, yes, nothing is a choice. To make the difficult discussion more manageable, we talked about questions she should ask the former client to get a clearer answer to if she should work with this person again.
By the next call, she told me that the situation was clearer, and she was able to accept the situation without jeopardizing her financial and mental well-being. As she told me this, she realized she didn't need to take quick action. She allowed it time to evolve, and the decision came about naturally and was more beneficial to her and her client.
Methods to help you make decisions quickly.
There are many methods on how to be more decisive. Below are some of my favorites.
Make a Pros and Cons list
All you need to do is write down on a paper the positives of making a decision toward something and write down the negatives of what will happen if you decide to make a choice. Writing things down on paper will allow you to separate your thoughts and really find out what is going on. Just by writing things down will allow you to clear the cloud that may be around the choice.
***AD*** from Released Repurpose Reorganize: My List Simplified journal is a wonderful organizing tool for planning a move or a renovation. Use it to corral all the to-dos.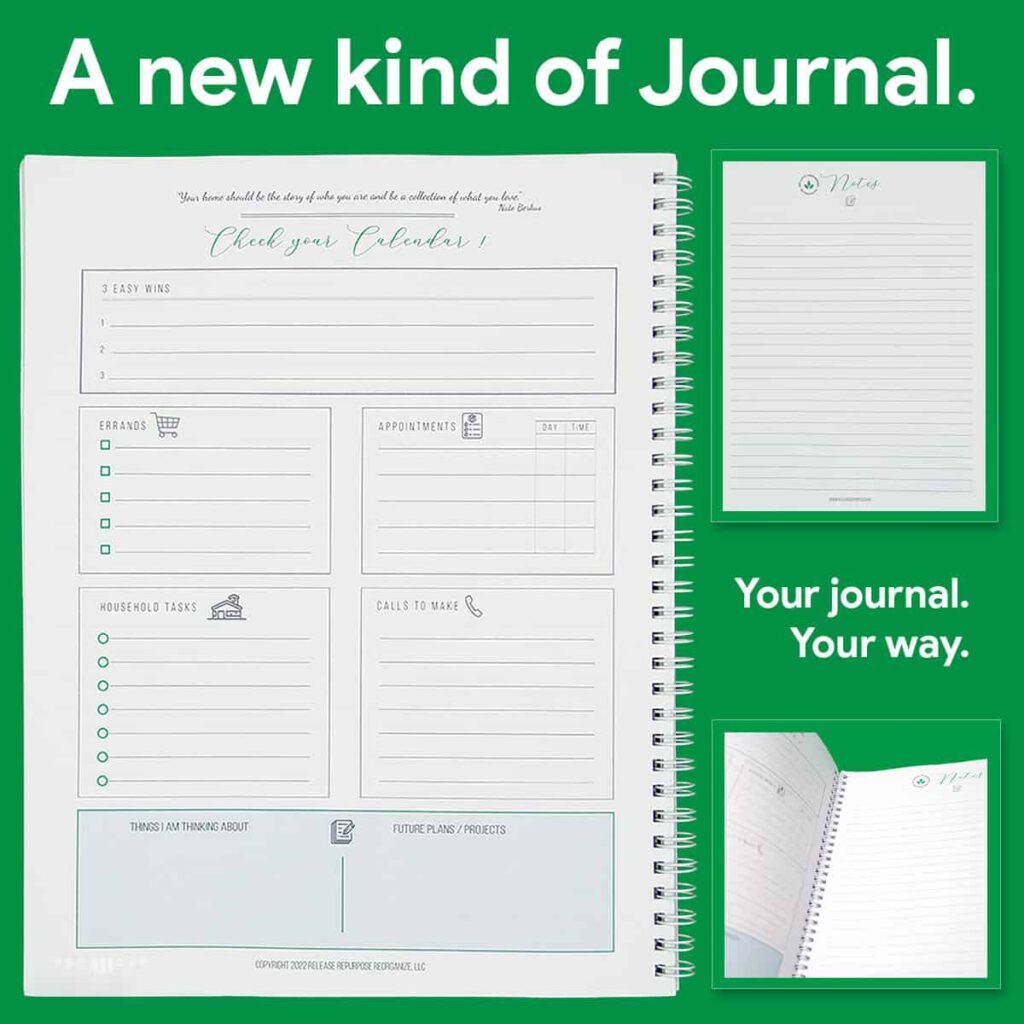 Stay positive
When making decisions, some may look too much into the dark side of the situation. To the point that it scares them, and they turn away altogether. Our minds can easily scare us out of making a decision. So, staying optimistic will help us take the risk.
Talk it out with someone you trust.
Talking through the choices will help you see clearer and allow you to decide on the direction you want to go. Getting out of our heads can make a decision a lot easier.
Don't allow regret to block you.
Some people have gotten into the habit of regretting things they have done. This habit can be detrimental to the well-being of oneself. When you do make the decision, try not to regret it. You have looked at the situation and are confident in your decision. Looking backward and regretting only hurts you.
Making Decisions Videos
Feel free to visit these TedTalk videos that talk about making decisions.
The above video is by Patrick McGinnis, who talks about how to make faster decisions.
The above video is by Renata Salecl, and she talks about our unhealthy obsession with choice. With all the information we have now on the internet, the choice of ignorance and denial is on the rise.
This video above is by Sheena Iyengar, and she talks about how to make choosing easier. She talks about the choice overload problem and how to solve it.
I hope these choosing and choices videos, as well as methods on how to combat indecision, help you get your life moving in the direction you want.
Let's continue the conversation. What resonated with you when you watched these videos? Leave a comment below.
(Visited 521 times, 11 visits today)