Boho decor is popular these days. I am so glad it is because it is my favorite style. The natural look in a home is one of my favorite tried and true decor options. Who doesn't like a warm home with natural colors and many plants? To decorate my table this fall, I needed a decor stand matching the boho decor furniture in my dining room. Here's how I made this cute boho decor stand. It is affordable, and I had all the supplies in my craft area too.
What is the Brief History of Bohemian Interior Design?
Bohemian interior design became popular in the 19th century in Paris, France. It showcases a lot of handmade and natural items which bring in nature and allows for a relaxing home.
Jump to:
Supplies Used to make this Cheap Boho Decor Stand
Below are the supplies I used to make this boho decor stand and the pumpkin.
Ribbon - Boho style ½ yard - long enough to overlap the ribbon twice for a thicker look.
Optional: Grapevine pumpkin at Michael's
Optional: Plaid wire fabric ribbon 2.5 inches wide and about 3 feet long
How much did it cost to make this Boho Decor Stand?
It only cost $3.00 for the wood circle. The cork sheet was in a pack of three for $10.00. The ribbon was $10.00 for a bunch of ribbons with different styles. So, It cost about $8.00. And I have lots of supplies left for other projects.
Instructions on Making Cheap Boho Decor Stand
Now that you have all the supplies available. Let's start making this boho decor stand.
First, I traced the wood circle shape using a marker on the cork sheet. Using scissors, I cut on the line to make two cork circles. Then, I set them aside. I moved on to the next step.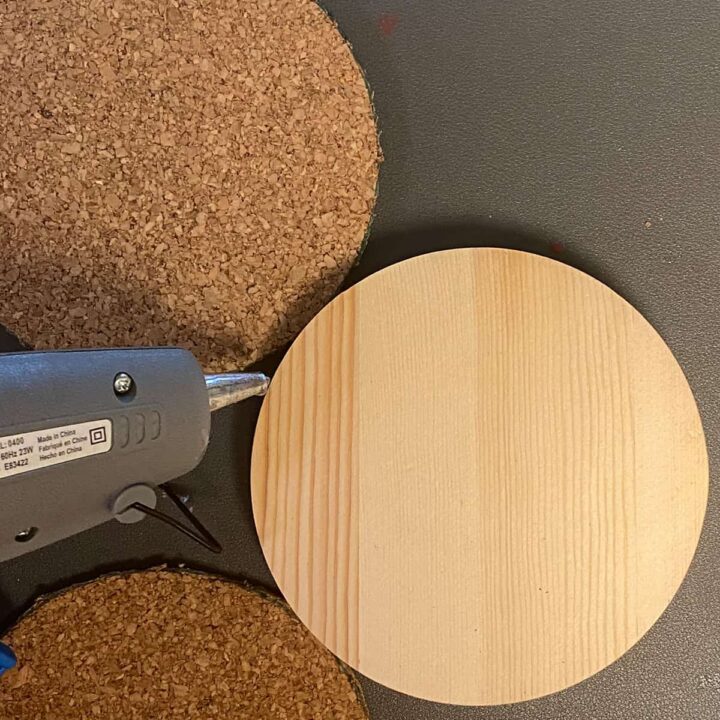 I then added hot glue to the top of the circle and placed the cut cork circle on it, pressing evening. Then, I turned it over and did the same thing to the other side.
With the hot glue, add a bead of hot glue on the side of the cork. Run the hot glue and add the ribbon to cover the two cork pieces and the wood. You only need to use hot glue for the top of the ribbon to adhere to it. Be sure to go around twice with the hot glue and ribbon.
Let it cool completely before placing it on the Boho Stand.
Optional: I added a grapevine pumpkin (bought as is) to the top of the stand.
Add the ribbon around the stem by wrapping it around and then tying it, allowing the ribbon to fall evenly on each side.
Add the silk flower stems to the top of the grapevine pumpkin around the pumpkin's stem.
Reveal:
Here is what the Boho stand looks like when it is done. It's cute, right? Easy to make and pretty with other Bohemian-style pieces.
Other Ways to Use This Bohemian Stand
You can use this stand for various purposes, not just to hold a decorative pumpkin. Below are some ways you can use this stand.
You can use it as a coaster for your larger water bottles. Some coasters are too small to protect your table from the condensation of water.
I also tried to use it as a part of my centerpiece on the dining room table.
Another way to use this stand is to place an electric candle on top of it.
How long did it take to make this Boho Stand?
It didn't take very long to make this stand. It took about one hour.
Please note these are affiliate links through Amazon, and at no additional cost to you, I will earn an affiliate commission if you click through and decide to make a purchase.
Visit our other home decor DIY ideas for more inspiration.
(Visited 78 times, 1 visits today)