Apothecary jars are excellent options on your dining room table or in your home to decorate for the season. Depending on the season, I replace the items inside my two glass jars and love changing them. In this post, I will share my spring apothecary jars with you. I hope they inspire you to get some for yourself and help decorate your home this spring.
Jump to:
What inspired me to do this Spring Apothecary Jars Decor?
I love container decorations. It is where you can quickly transfer out one season's decor and update it to show another. It minimizes how many decorations I have throughout the home and streamlines my decorating process. Keeping the apothecary jars out all year allows me to update for the new season quickly. Please visit my other apothecary jar DIY project post below for more ideas. HOW TO MAKE CUTE FALL APOTHECARY JARS
What supplies did I use to make this Spring Apothecary Jars Decor?
You need only four things to make these apothecary jars in springtime.
Supplies used:
2 - glass apothecary jars - they are usually glass jars.
2 - small narrow gnomes purchased at HomeGoods or these succulent gnomes from Amazon(affiliate).
Cream and green stripe wire ribbon
**AD from Cricut Maker**
How much did it cost to make this Spring Apothecary Jars Decor?
Since I had no spring-scented potpourri, I had to buy them. So I spent $26. However, I knew I would bag them up and reuse them again in the coming years, so the cost didn't bother me. Tip: To freshen up the potpourri, you can easily add a few drops of your favorite essential oils to the potpourri.
Full disclosure: To make my centerpiece, I wanted to buy narrow spring gnomes since I am a gnome fan for my centerpiece. I found these beauties at HomeGoods for $13.00 each.
How long did it take to make these Spring Apothecary Jars Decor?
Since I wanted the glass jars to be organized a certain way, it took me about 1 hour to set up both.
How did I make this Spring Apothecary Jars Decor?
First, I sorted the Peony and rose-scented potpourri packs into 'like' items. The peonies went into one pile, the green-colored pieces into another, the cream pieces in another, and the nuts in another pile.
Then, I place a large nut over the hole to prevent the small pieces from filling the base. Then began to add the nuts around it.
**AD from Cricut Maker**
Now, I added the green and cream pieces to the jar. I added the peonies flower facing out so I could easily see the flowers from the sides when I placed the other pieces around it.
Next, I cut the ribbon into about two 5 feet long pieces. I made a standard bow, and with the wired ribbon, I made a waved design with the end of the ribbon.
The Big Reveal
They look super cute! I'm so happy with the results. Here is what I did with the gnomes I bought at HomeGoods. I added the gnomes to the center and the two apothecary jars to either side of the cutting board on my dining room table. It's a great way to decorate the dining room table. What do you think?
Other things you can add to your Spring Apothecary Jars Decor.
You can add a variety of things to a spring apothecary jar. Below is a list of some of them. The links below are from Amazon (affiliate). I will receive a small referral fee if you click through and buy something on Amazon. Thank you for your support.
Apothecary Jar Filler Ideas
Pine cones or dried outdoor greenery
Fabric pieces
Colorful plastic Easter Eggs for Easter apothecary jars
Colorful large cotton balls
Felt Strips
Repurposed small figurines
Fake fruit
Small Bunnies
Small Gnomes
Sea Glass
Coffee Beans
Easter grass
Easter decor
Fairy Lights
Tinsel
Make sure you are not using items that can spoil or are edible. Some jars may not be food safe.
Where to display Spring Apothecary Jars Decor?
These jars can be displayed in a variety of places in your home. While I placed mine on the dining room table, feel free to try the rooms below.
guest bathroom
living room
Bathroom (main)
Main bedroom
Craft room
Buffets for Parties
Beverage station for a party
Kitchen Countertop
A candy buffet
mantel
Where to buy Apothecary Jars?
You can buy a variety of glass apothecary jars from several home decor places online or in brick-and-mortar stores. They come in numerous shapes. Below is a list of just some of them.
**AD**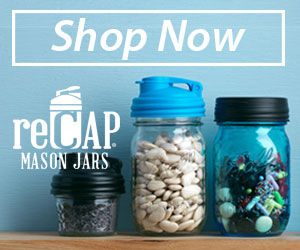 I found these on Amazon (affiliate). I will receive a small commission fee if you click through and buy something on Amazon. Happy Shopping!
Tips on making this Spring Apothecary Jars Decor.
Below are tips when making these apothecary jars.
Pick items that are small to fit inside the jars. If they are too big, you may have lots of gaps that you will need to fill.
Gather items together that are similar in color to help unify the jars.
You can use bright pinks, yellows, and beiges for spring colors.
Find things around your home to add to the jars to reduce the amount it costs to make them.
Use a gallon storage bag to hold the content of the jars when the season is over. Pull them out and reuse them in the future.
Ribbons with natural colors work nicely for springtime.
If you want to do centerpieces, it is best to use large jars, so they fill up the table.
Display no more than two large apothecary jars on a dining room table. Otherwise, it will get too cluttered.
For a simple display, you can add a battery-operated candle inside the jar and add small dried flowers around the candle.
Add these apothecary jars to a mantel for a beautiful focal point.
I hope this post inspires you to invest in Apothecary Jars to decorate your home. Please leave a comment below or share it with others. I would appreciate it.
Visit our other Recent DIY Projects!
Want to get even more inspired? Visit our other posts below!
(Visited 126 times, 1 visits today)