I love to decorate the center of my dining room and peninsula during the fall season. It is a focal point in my open floor plan house, and each year, I love to update these centerpieces to make them more attractive for us and when the company comes over during Thanksgiving. Follow along and check out how I assembled our Fall Apothecary jars to make your own.
Jump to:
What inspired me to do these Fall Apothecary Jars?
I have had these apothecary jars for at least five years now. They have had a variety of things in them. I recently added shells and rope for the summer look but wanted to make them unique for fall. Below is what the summer apothecary jars look like.
BEFORE:
I placed all the shells and rope into a zipper baggie and stored them away for next year.
What are Apothecary Jars?
Apothecary jars, also known as medicinal jars, are used to hold medicine liquid and dry in bulk for doctors years ago. Now, they have become glass canisters for decorative pieces that you can add to centerpieces on your tables. They have a variety of sizes. The two I have are middle and tall, about one foot to 16 inches tall. They are simple ideas to do seasonal decorating.
What supplies did I use to make these Fall Apothecary Jars?
Check out the list below if you want to make these apothecary jars.
Please note these are affiliate links through Amazon, and at no additional cost, I will earn an affiliate commission if you decide to make a purchase.
**AD from Cricut Maker**
How much did it cost to make these Fall Apothecary Jars?
I bought new pine cones and fall potpourri bags. They were about $15.00. The rest of the things I used were repurposed from other projects and my craft supplies.
How long did it take to make these Fall Apothecary Jars?
This project took me about a few hours to assemble. Mainly because I didn't know what I wanted to do with them; now that I have them together, you should be able to do it quickly.
**AD from Cricut Maker**
How did I make these Fall Apothecary Jars?
First, I cleaned the apothecary jars and let them dry thoroughly. Then, add the flat silk leaves to the bottom of the inside. This blocked a hole that is in the jar to limit other small items from going into it.
Then, I added the pine cones and nuts around the edges and worked my way up with different dried fall decor and silk flowers while examining the sides and ensuring it was pretty on all sides of the jars. I finished when I got about ½ inch from the top edge.
Here is what it looks like from the top.
Now, it was time to add the ribbon. I cut the ribbon into about 3 feet and tied the wire ribbon around the stem of the jars. It was a normal bow.
Next, I took a silk flower that had a wire attached to it and ran it through the center of the bow to cover the knot. I'm not a fan of the knot in the bow, so I wanted to cover it. Here's how it looked.
The Big Reveal
These Apocethary Jars look so adorable. I am happy with the results. I placed each on a wood centerpiece board I found at Marshall's for $16 each. And added candles (electric (affiliate) and regular), autumn bouquets, my bamboo plant vases (affiliate), and my fall pumpkins. What about you? Would you make them? Please leave a comment below.
Tips on making these Fall Apothecary Jars
Depending on the size of the jar, you can add larger fall pieces.
**AD**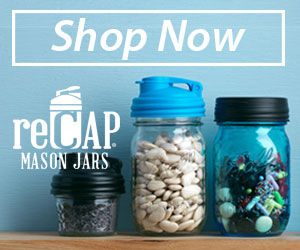 If you know how to do other types of bows, you can replace the simple bow above that I made and use one of yours.
Feel free to visit our other DIY projects below for more inspiration.
Popular Affordable DIY Posts:
(Visited 1,938 times, 9 visits today)