****Visit our "Disclosure Policy and Cookies" for details. Affiliate links appear on this page from Google Adsense, Amazon, Order Out of Chaos, Impact affiliate members, Release, Repurpose, Reorganize, and Shareasale affiliate members.****

If you are like our family, we are getting ready for back to school. Little by little, I have been clearing out and updating each room in my home. It's amazing how much the house gets cluttered when there are four people in it 24/7. So, when I finally reached the kitchen to reorganize, I decided to write about organizing kitchen tips for back to school.
Jump to:
Kitchen Tip #1: Go through cans and soups
The next kitchen tip for back to school is to go through cans and soup, and other pantry (Affiliate Link) supplies to make sure you have everything you need for at least the first two weeks of school.
Meal planning is great if you have the time too. These meals are easy and fun for the whole family.  Some examples are a Mexican Dinner night, an Italian Dinner night, a Leftovers Mash-up Night, and a Meatless Dinner Night.
Kitchen Tip #2: Add a "Dinner Tonight" basket to your counter.
In the morning, pull out what you need to defrost and place it in this bin.  It works great for freezer soup dishes because it keeps them contained when defrosting.  This is what mine looks like.
Kitchen Tip #3: Make a snack section for a quick grab to make lunches.  
Buy a month's supplies at your nearby wholesale store or buy at least 2 weeks' worth of snacks (using coupons always) and sort them in labeled bins.  I have one for gluten-free snacks, but you can have a bin called "sweet snacks," or "salty snacks," or "low cal snacks."
Kitchen Tip #4: Gather storage bags and other items in one place.
Then, store the kid's and adult's lunch bags on the counter to remind you at dinner time the night before to make lunch the next day. Use a pull-out drawer to hold all the lunch storage bags for easy access.
***AD*** The best academic planner for students! Order Out of Chaos Academic planner helps track time and tasks! Buy 1 or more today!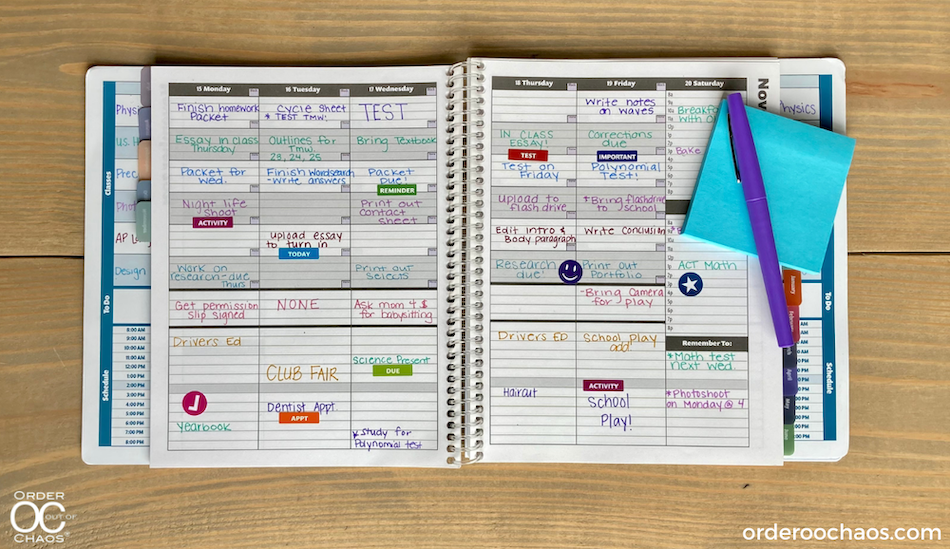 Kitchen Tip #5: Bulk buying saves lots of money on snacks.
Have an area where you can store large containers to refill with large bags of snacks. 
These tips will not only help you as a parent, but they will also help the kiddos be more independent by letting them know where supplies and food are kept. Get them involved in the process of creating a well-organized kitchen, and you will be saving time by handing age-appropriate tasks to the kids.
Let's continue the conversation; what is your favorite back-to-school organizing kitchen tip? Please leave a comment below. I would love to hear from you.
Visit our other back-to-school tips to help you and your family get organized!
(Visited 753 times, 1 visits today)