Is your entryway a mess? When you enter your home, are there piles of things lined near the door? This area is called the entryway landing zone or drop zone. In this area, you place items that will be going out of the home with you and your family. It is an area that can easily be transformed from a messy place to a well-organized area for a great morning start. Ready to get your entryway landing zone organized? Follow along and see what you should keep in an organized entryway.
Now, it is time to decide on your entryway. Let's determine where this landing spot should be in your home.
Where should I place my organized entryway landing zone in my home?
Some people may have mudrooms. These rooms are the perfect spot for a landing zone to help keep their family's things organized when they enter the home. This room is usually near the garage door and may house a washer and dryer as well.
People with small homes may have a living room or foyer that would be their landing spot for items when entering their home. It can be a corner of the shared room that is close to the front door.
Others can have it as part of their kitchen or family room or just a hallway in their home, depending on how their home is laid out.
If it is still not clear where your landing zone would be, ask yourself these questions when determining your entryway landing spot for your things.
Questions to ask yourself to determine your perfect entryway landing zone
Where do you enter your house most often? Is it through the garage? Through the front door? Or, in the back of the house?
What stuff do you bring in with you every single day? This could be anything from your purse, coat, and shoes to specific items like a cellphone charger cable or grocery bags.
***AD*** from Released Repurpose Reorganize: My List Simplified journal is a wonderful organizing tool for planning a move or a renovation. Use it to corral all the to-dos.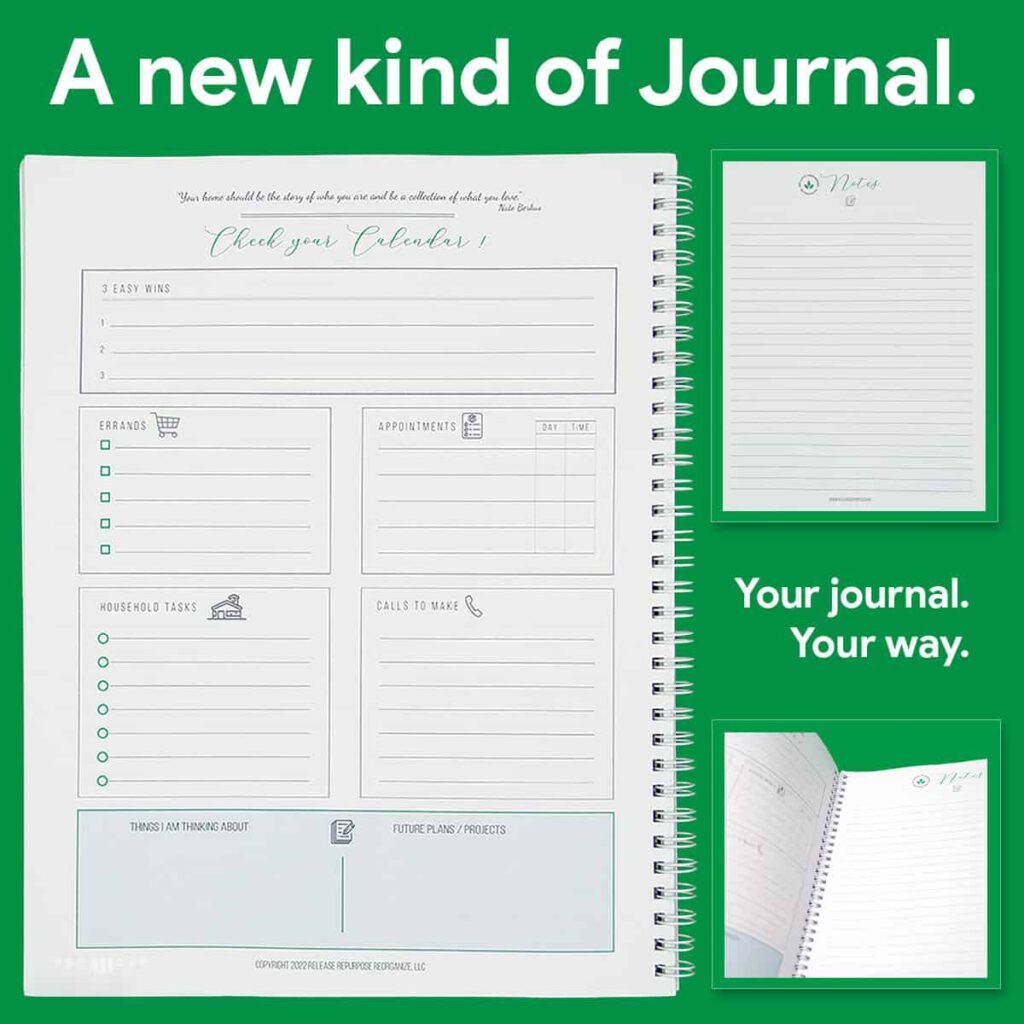 When you enter, do your things have homes? Does your purse or bag have a specific spot to land when you enter? How about your shoes? Do you take off your shoes when entering the home? If so, where do they end up?
Where do coats end up when entering your home? Do they get hung? Or, are they thrown over a chair near the door?
Do you have a place to add the incoming mail? Where does the mail go when you enter the home? Is it a convenient place?
How about the kids' stuff or dog's stuff? Do you have a hook or shelf to place those items in your entryway?
Answering these questions will help with determining which area is the best for you. Now that you have decided where your drop zone will be let's show you how to organize the area.
Wherever you have your entryway drop zone, it will be unique and perfect just for you and your family.
Easy Tips to Make Your Family's Organized Entryway Landing Zone
Now it is time to create an organized entryway landing zone. Below are tips to help you make it effective for you and your family.
Start with a clean slate
First, you must clear the entryway from all the debris and mess. Create a clean slate to help you stay focused on the task at hand. The entryway drop zone should be as close as possible to the door you used the most. It needs to be a place for your entire family to use each day. So, getting their feedback is super important.
Keep the landing drop zone near the most used door.
Keep in mind that this drop zone area needs to be close to the door that your family enters the most. If you enter from the garage door, your landing drop zone should be near the garage door. If you enter your home from the front door, your landing drop zone should be in the foyer or living room near the front door.
Declutter the items before organizing them for this area.
Gather the items that will be stored in the entryway drop zone area and declutter them before going out and buying any organizing products. Sometimes we think we will use something frequently and it turns out we haven't used them for years.
These items are needed to organize this landing drop zone area.
Be sure to have the following items to maximize your landing drop zone. The items below work well to help keep everything organized so it looks attractive and functional.
Pretty containers to keep stuff under control - Visit our post: 12 ESSENTIAL CONTAINER TYPES FOR YOUR NEXT ORGANIZING PROJECTS for ideas
Drawers or baskets for storing gloves
Storage bench to sit on so you can put on shoes
Hooks or Pegs for current season coats and jackets
Place to store misc. items like keys, wallets, mail, etc…
Good lighting to see where things go
Table or cubby system to hold kids school bags and cellphones chargers
Place to hang heavier coats and hats
An area to store shoes.
Using all these items on this list will make your well-organized entryway super pretty and functional.
Label, Label, Label
Be sure to label the bins and drawers, so everyone knows where the items go.
There are varieties of well-organized units you can use in the entryway landing zone. Below are some I found on Amazon(affiliate). Feel free to check them out.
Well, I hope this helps you get your entranced more organized, and it helps you and your family keep on top of the things that go in and out of the home.  What is your favorite organizing product in your entryway?  Please leave a comment below. 
Feel free to visit these additional posts for other publications for more tips on entryway organization:
14 Ideas for Creating a More Organized Entryway
(Visited 1,274 times, 5 visits today)