While doing my chores recently, I was going through my kids' rooms.  They are teenagers now and, of course, don't listen to Mom's advice about how to keep a room neat and tidy even though I have 25+ years of experience.  No bother; it's a typical mom-and-teen relationship. Anyway, I found that my kids, like many other adults, have a short attention span when organizing their homes. They want that quick gratification that comes with a small amount of organizing work. You can do it to a certain extent.
Jump to:
Organize in two to four-hour blocks of time.
If your room has piles and piles of things in it, it may be much harder to get the gratification you may want with little work. Personally, I don't want to spend hours and hours organizing. Yes, you heard me right. I did that for many years with clients, and after the 4th hour, I was more lightheaded and more likely to throw something away by mistake. As I aged, I realized that completing smaller projects can be gratifying without being exhausting. If you are interested and feeling accomplished in a short amount of time, stick around and check out these tips!
How to begin the home organizing process for people with short attention spans.
Start with making a list for each room.
Yes, I know a list is daunting and can be overwhelming but try it. It does work. Get a notepad and write the name of each room on each page. Then, go and do a mind purge on the page. Include everything that you need to get done in each room. If you just don't have the attention to do more than one room at a time, that's OK. Try taking the notepad to the place. Look around and really 'see' what is there.
What object doesn't make you feel loved?
What doesn't make you feel happy?
Is there something that is nagging you to do something with it?
Write those items down on that room's page. Doing this will give you a chance to see what is pressing on your mind.
If you can't go through every room, try doing one room each day.
Keep the notepad handy just in case you remember some to-dos from another while doing something else. Jot it down on that particular room's page. This action often happens with people with short attention spans. You can even limit this process to 15 minutes or even 10 minutes if that helps you. Writing tasks down makes them more concrete and more likely to be completed sooner than later. Try it and see.
Decide on the reward
Before starting the organizing process, determine a reward you would like to have after you spend 15 minutes organizing.
It could be something like watching a YouTube video you enjoy, getting a small snack, taking a bike ride, or doing a hobby you enjoy. This reward doesn't have to be big or take a long time; it just has to be precious to you and motivate you to do the organizing.
Now, it's time to do the actual organizing.
Pick the room that bothers you the most. Don't look at the room as a whole. Find one thing that is on your list for that room to do in 15 minutes. Do that one first. If you feel like you want to do another task, that is fine. However, I don't recommend doing more than 30 minutes at a time. I found that people with short attention spans want to get the task done, so they rush the process and then burn out right before finishing. Going through this process slowly may help you keep your system in place longer.
Completely finish the project
Keep in mind your organizing job is complete when you have donated, recycled, or given away the items.
When purging your space, keep in mind your organizing job is complete when you have donated, recycled, or given away the items. Stacking the stuff in the garage doesn't mean you are finished. Read more about this in our recent post. To help you figure out what tasks take 15 minutes, I shared below some of my posts. I hope they help you.
Over the years, I created several 15-minute organizing challenges to make you think less and act more. Here are just a few of my favorite posts.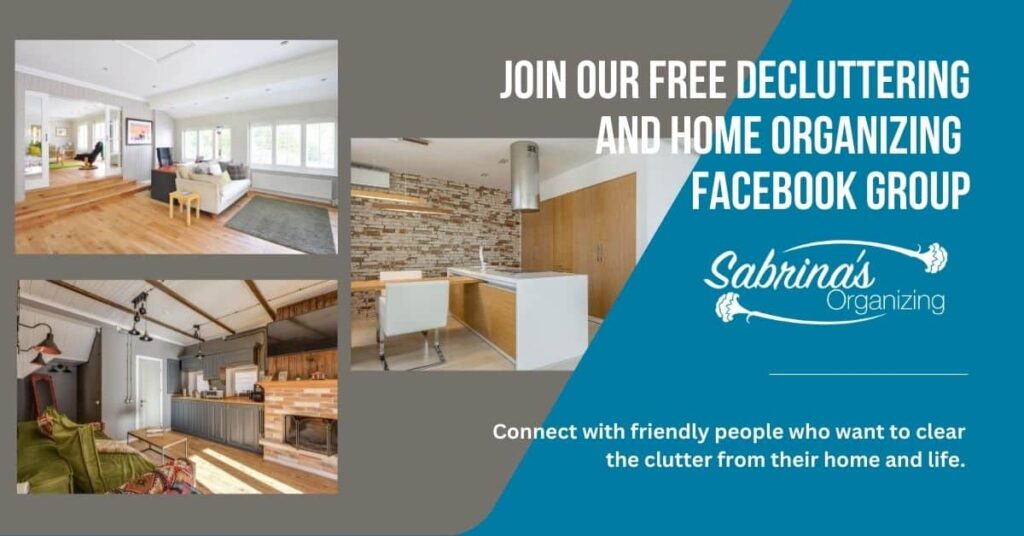 Four 15-Minute Organizing Challenge Printables to clear your house of clutter
This challenge involves purging one item on day one and two pieces on day two, etc... It is an excellent way to start your purging process. It's easy and will allow you to get things out of your home and give them to someone that genuinely will appreciate and enjoy them.
This 15-minute organizing challenge list gives you exactly what to go through each day. All the tasks will limit you to 15 minutes so you can fit them into your busy schedule. Can you find 15 minutes in your day?
This list is excellent for a busy family's kitchen. I know getting into the kitchen and seeing a pile of dirty dishes can be overwhelming. If you have a kitchen that just won't stay organized, try this list.
There are many things we can do around the house that will not take us several hours to do. But to remember them with all the other things that need to be done, organizing can be left in the dust. This list is one of my first 15-minute challenges. Keep in mind that this list doesn't have to be in order. Just check off the completed tasks.
As you can see, there are plenty of things to do to get yourself organized and feel accomplished in a short amount of time! I found that even when I complete a project in a short amount of time, I am still happy that I completed something. But, if you always think it will take a long time to do an organizing project, you will never be able to finish any projects. So, I hope you jump in and take advantage of these already-made quick gratification tasks. Which one is your favorite challenge?
Check out these additional useful home organizing posts from other experts that will also help you.
ADHD-Friendly Ways to Get Organized
Daily Living Tips for Adult ADHD
When Focus Is Fleeting — and Painful
Please note these are affiliate links through Amazon, and at no additional cost to you, I will earn affiliate fees if you decide to make a purchase.
(Visited 1,483 times, 1 visits today)