I have been doing the Keto diet since April of last year and wanted to share with you my five "go-to" Keto style weeknight recipes that will help you get your Keto diet started. If you want more information about the Keto Diet, visit these experts below to get more information.
A Keto Diet Meal Plan and Menu That Can Transform Your Body
Let's start cooking!
Keto Style Weeknight Recipes to Make for the Family
The first recipe I am going to share with you is an easy one to make. If you love turkey breast, as I do, this one will be delicious. It requires an Instant Pot
to get a soft and juicy yummy meal.
The second weeknight recipe is a delicious soup recipe that was modified to incorporate some greens. It's super affordable and excellent for the "I forgot to pull out something for dinner" situations. All you need is eggs and parm cheese and broth.
The third weeknight recipe is another soup recipe. Tomatoes on the Keto diet is not used often. But, it is a nice treat during a busy week. So, try this recipe once a month or so. It's a recipe for when you feel like a bowl of quick warm tomato soup on a cold night.
The fourth Keto style recipe is a Keto Style Instant Pot recipe for Brisket. If you ever made brisket before, it can be a lump of tuff meat. But with the pressure cooker feature on the Instant Pot
, you can get a tender cut of meat that makes it easy to chew and digest.
The fifth Keto style weeknight recipe is a chicken thigh recipe. I used boneless and skinless chicken thighs often and added fat to it like avocado. Then add MCT oil or olive oil on top after the meal is cooked to add fat.
Meal planning will be so much easier when you have an arsenal of Keto recipes under your belt. Be patient and take your time to collect recipes that are healthy and enjoyable. If you want to visit all of our Keto Recipes, feel free to click here.
Other tips for making your weeknight cooking a breeze:
I prefer to plan on Sundays for the week. Making a large meal on Sunday allows me to have leftovers or ingredients to use the next day. As a result, I only cook every few days.
Stick with several recipes that are enjoyable and repeat them each week. By doing this, it allows for easy buying and cooking. Then you can change it up a bit later when you get more comfortable with the new lifestyle.
I hope this inspires you to make homemade healthy meals for your Keto diet. Visit our other collection of delicious Keto meals for weeknights.
Visit our complete list of keto recipes:
Below are cookbooks with keto recipes in them. Check them out on Amazon (affiliate).
Please note these are affiliate links through Amazon and at no additional cost to you, I will earn an affiliate commission if you click through and decide to make a purchase.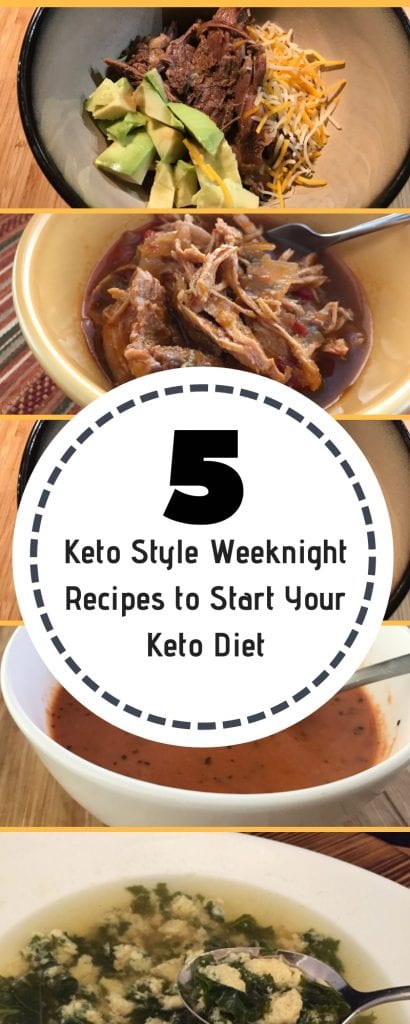 (Visited 706 times, 4 visits today)