While emptying my mother-in-law's home, we were clearing out old furniture and repurposing or donating them. No one seemed to want these two dining room chairs that were left behind. With their design and sturdiness, it would be a shame to trash them or give them away. So, I asked my relative if she wanted them for her home. She said yes! And was willing to allow me the chance to upcycle them to make them more attractive and fun for her. This post talks about how I upcycle dining room chairs into fun accent chairs. Following along and see the steps.
Jump to:
Below is what the chairs looked like before I repaired, updated, and cleaned them.
What tools and supplies are needed for this upcycle dining room chairs project?
***the links below are affiliate links on Amazon.com; if you click through and buy something on Amazon, I will receive a referral fee at no additional cost to you. Thank you for supporting my small business.
Masking tape
Wood Glue
220 Grit Sand Paper
Rags for staining
Steel Wool fine
Flathead screwdriver
Scrubby soap bar and soft scrub
Gel Stain Walnut
Wood Filler Walnut
PolyShade Mission oak
Scissor
Stapler
Upholstery Fabric 1 - 2 yards depended on the direction.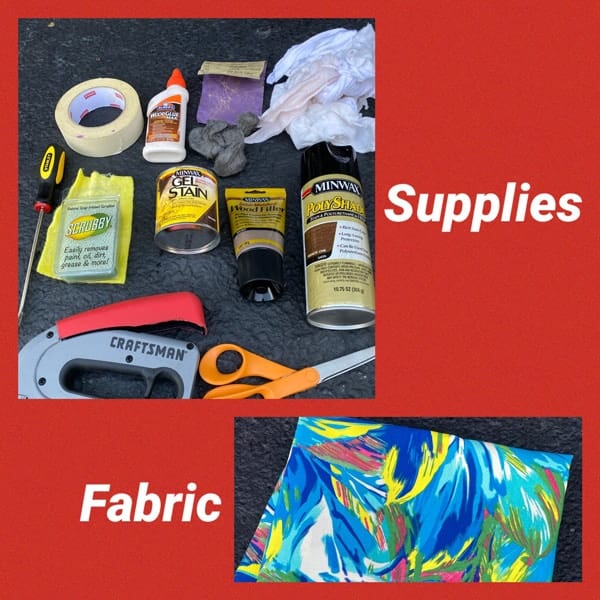 Now that I have all the supplies and tools I needed for this project, below is how I did the transformation.
How to transform dining room armchairs into accent chairs?
Pick the seat fabric.
I went to the fabric store (JoAnn(TM)) and found this great fabric. It matched the cow painting that my cousin had in her living room. Since she has a dog and cats, I figured it would be best to use outdoor upholstery fabric because it was more durable and would withstand the animals' paws.
Dismantle the chair seats and feet if possible.
Ensure you keep a baggie handy to hold the screws for the chairs. Also, be careful; older hardware is sharp and can cut your skin easily. Separate the pieces if there are lots of them so they do not get mixed up.
I had to glue some of the joints because the glue had dried out.
To clean the brass front feet, use this cleaning method.
Remove the brass from the chair legs. There was a nail that we could remove and slide out the cylindrical metal carefully.
**AD from Cricut Maker**
Then, I laid them on the plate with a paper towel and added a generous amount of ketchup to each brass metal. After waiting about 40 minutes or so, I then scrubbed them with a toothbrush to clean off the grime. It worked pretty well. I have also used Lemon juice and baking soda to do this. Both methods worked well with a little elbow grease.
Reupholster the chair seats.
I've done this several times and learned how to do this when I was in college working for The Bombay Company retail store. Visit my how-to reupholster the dining room chairs post I wrote some time ago.
I did not want to remove the layers since it was covered in plastic and was pretty secure. So, I added the fabric to the top, stapled the sides first, worked my way around, and stapled the fabric to the corners, layering as I went. I did this with both chairs.
Clean the wood on the chairs.
These chairs were in a house where people smoked for years and in a smoke-free home for 15 years. So, as I cleaned it, I found that there were layers of grime on the wood. Using the Scrubby Soap Bar, I removed the dirt and grime and the top layer of oils on the chairs' arms. I rinsed the soap off with a bucket of clean water and rags to get as many oils off as possible. Then I let it dry.
I added more soap to clean up on spots that still had grime on them. Then, I rinsed it again and let it dry. It worked pretty well.
Repair the holes on the chairs with wood putty.
I then sanded the areas that needed a little work. And added wood filler to fill in the holes that were on the arms of the chairs. Let the wood filler dry completely. A day later, I sanded the putty down and made it smooth with the wood. I used fine sandpaper to sand the entire chair also.
Ready to Stain the Chairs.
Now, I was ready to stain the chairs with the gel stain. The gel stain made it easy to stay in control of where the stain would be placed. Then, I let it dry completely until it was not sticky. Using the rag with the gel stain was very easy to apply. I added another layer of gel stain and waited until it was completely dry and not sticky.
**AD**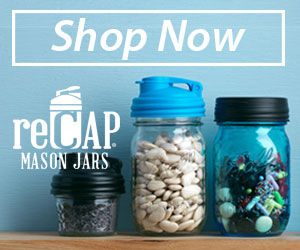 I tried a new staining method that allowed you to use a stain in a spray paint format. It wasn't my favorite, and I probably will not do it again. But here is how it looked after I stained and added poly for a topcoat. And let dry.
Attach the newly upholstered seats.
Then, when everything was dried, I added the upholstered seats with the screws. Pressing down on the top of the seat while screwing them in. It helped keep the seat of the chair more secure.
Add the accessories back to the chair.
I added the brass pieces to the bottom of the chairs to finish it off.
How long it took to do this project?
The project took about 4 days with all the drying time. It took more drying time than it took to do the steps.
The Upcycled Dining Room Chairs Reveal.
And this is how the chairs look now that they are accent chairs. What do you think? I think they look amazing.
Below are the before and after photos! My cousin loved it! I'm so glad. She has the matching buffet and will be staining it and repairing it to match.
Watch the video to check out how the chair transformed.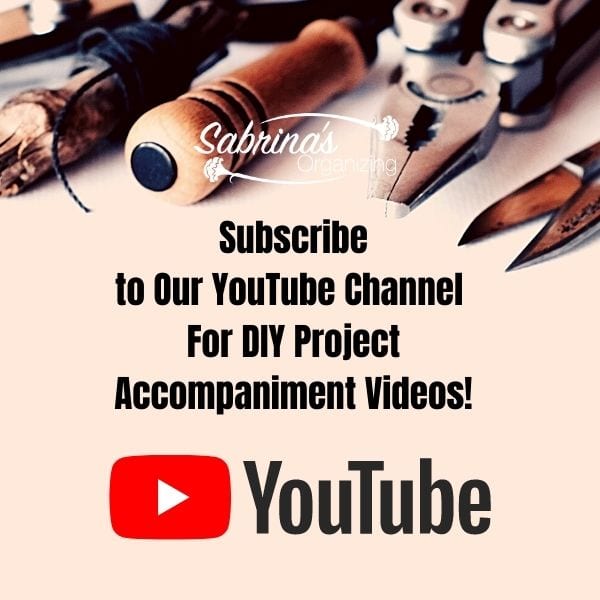 If you want to see our other DIY upcycling projects, check out these posts below.
DIY CHALK PAINT END TABLE TUTORIAL
HOW TO TRANSFORM A WOODEN FOLDING CARD TABLE FROM BLAH TO FABULOUS
CHALK PAINT ARMOIRE DIY PROJECT TUTORIAL
HOW TO MAKE A CUSTOM WOOD SCARF HOLDER
HOW TO TRANSFORM A TABLE FROM A VANITY BACK TO A CONSOLE TABLE
Visit our other upcycled DIY furniture project!
(Visited 2,487 times, 8 visits today)