Shopping for Teenagers (Teens and Tweens) this time of year can get expensive. The clutter in a teenager's room can stop you from going out and buying more stuff for your kids. Instead of buying stuff to add to the clutter, why not find items that will assist your child in getting more organized? This post shares organizing product gift ideas for teenagers to help them get and stay organized.
Jump to:
Gift ideas to help teenagers
organize school supplies
Whether you have a middle school student or a college student, a well-organized school supplies space will make it easy for them to know where things belong and where to find the items. Pick items that will give them a sense of control and pick a place to store these items that are convenient to them, not you. They need to take responsibility for their stuff, after all. The below items are gift ideas I found on Amazon (affiliate).
Gift ideas to help teenagers
organize their morning routine
Observe how your child works in the morning. Are they running from floor to floor to get their stuff together? If they are, maybe it's time to create an area just for them. Pick items that hold their book bag, other supplies, gym clothes, shoes, and coats. These items can easily be hooked behind the door or as complex as a cubby system that holds different items they need for different days.
***AD*** The best academic planner for students! Order Out of Chaos Academic planner helps track time and tasks! Buy 1 or more today!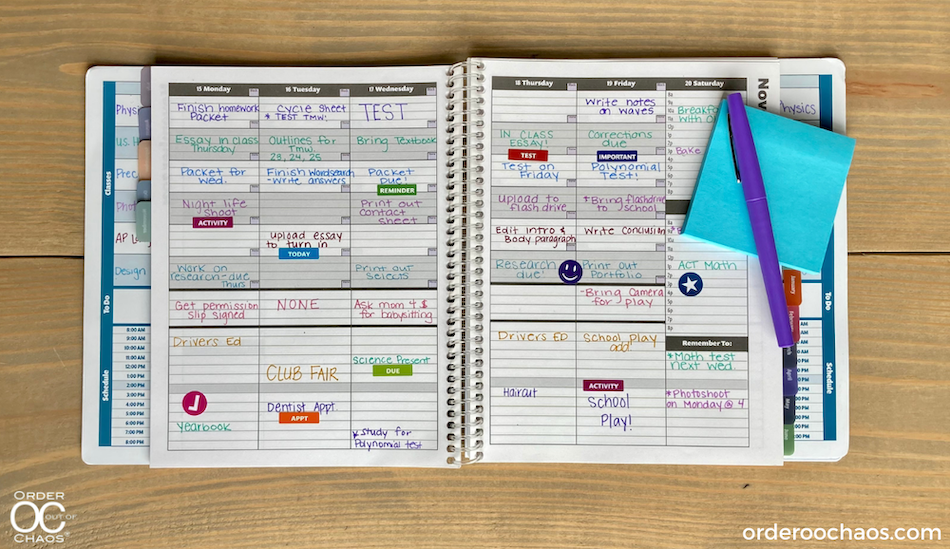 Start with a simple system. If you find that isn't working, make the system more detailed for your child. They may need a little more guidance.
Visit our HOW TO MAKE REPURPOSED DIY DAY OF THE WEEK CLOSET DIVIDERS DIY tutorial on how to make these to help your teen organize their weekly outfits.
**AD**
For girls with makeup areas, having a well-organized acrylic makeup system in place will speed up their morning routine.
Organizing jewelry in a teenager's room also helps speed up the morning routine. Below are some I made from scratch for my daughter that were super easy and fun. You may want to try making them yourself.
Visit my 6 Amazon Ways to Organize Jewelry for more gift ideas!
**AD**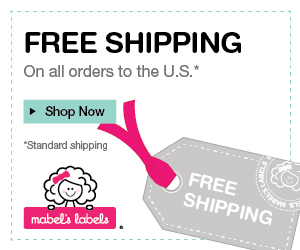 Gift ideas to help teenagers
organize their car
Organizing a teen's car will help your child manage their room. Items in a car can quickly get piled up and disorganized. But having a space for each piece will make it easier for them to find something quickly. Items like an insurance papers folio, a first aid kit, a small snow shovel, a bin that organizes the items in the truck, and even a console if their car doesn't have one are all great items to keep the car organized. The fewer items that move around in the vehicle, the safer the interior will be for your child.
Gift ideas to help teenagers
organize their bookbags and pocketbook
Keeping the inside of your teen's book bag and/or purse can be difficult unless you spend the time and find a bag with many inside pockets. Below are inserts you can purchase and add to your kid's existing bag for more pockets to sort their things. These items are from Amazon as well (affiliate).
Visit our what to keep in a car post to keep your teen safe.
Gift Ideas to help teenagers
manage their time
Paper Planner is key to managing time. I'm a fan of paper calendars for teens and found that digital schedules are great as a supplement to paper time management planners.
This one from Order Out of Chaos offers your child a section at the bottom to write down the activities and other tasks they need to do each day. It provides a place for each subject and helps your child plan their week at a glance.
Two-page weekly calendars teach your child to plan accordingly and make time for everything. If you click on the image, you can purchase it through their website. (I will receive a referral fee for your purchase.)
Another area you can look at is their planning process. They may need help managing their schedule. A markerboard could do just that, so they can schedule their time and write a to-do list for assignments on it as well. Some like these study wall boards I found on Amazon would work great. The subdivided boards will allow for much more organizing of thoughts and tasks.
Gift ideas to help teenagers
organize their room
Organizing your child's room is critical for a more organized life. Buying organizing products to make the closet more organized, the nightstand easily accessible, or maximizing hidden spaces will empower your child to take control of their room and hopefully motivate them to keep it organized. Buying these items now will be handy for when they move out or go away to college also. The images below are from Amazon and can be purchased there.
Docking stations and drawer organizers will help them keep items clear of clutter and help them easily find items. To show my son how organizing helps with time management, I made this video years ago; check it out here.
Below are the ones I found on Amazon (affiliate). If you click through, I will receive a small referral fee at no cost to you.
Small room nightstand organizers are also helpful for teen room organization. If your kids have small rooms, sometimes you do not have a place for a nightstand. So giving them something to store their nighttime things, tissues, cellphone, etc... will go a long way in keeping them organized.
Another gift idea that teens love is organizing their photos. If they love to have various photos on their wall, instead of taping them to the wall, why not invest in a few frames to hang pictures? Below are some I found on Amazon.
If your teenager is in sports or plays instruments and needs to store their equipment in their room, look for items that will help them organize their equipment on the walls to remove the clutter on the floor.
Gift ideas to help teenagers
manage their money
Another Organizing Gift Idea for Teenagers is to help them manage their money. Assisting your kids to learn how to manage money is easier said than done. Keeping the conversation open with no judgment will allow them to learn. Buying them a wallet or sharing books with them that talk about managing money will provide them with a glimpse of what they need to handle when they are adulting in the future. Below are some items I found on Amazon. (affiliate)
I hope this Organizing Gift Ideas for Teenagers guide helps your teen get more organized. Please comment below if you have additional gift ideas for teenagers. I would love to hear from you.
Don't leave yet! Check out these gift guides below. Happy Shopping!
10 USEFUL ORGANIZATIONAL GIFT IDEAS FOR MOM
6 GREAT GIFTS FOR DADS TO GET ORGANIZED
8 GREAT ORGANIZED KIT IDEAS TO GIVE TO YOUR LOVED ONES THIS HOLIDAY SEASON
10 GREAT PRACTICAL GIFT IDEAS FOR MOM
THE BEST GIFT IDEAS FOR ELDERLY PARENTS
CLEVER ORGANIZING GIFT IDEAS FOR THE FAMILY CHEF
BEST ORGANIZING GIFT IDEAS FOR PET LOVERS
25 Unique Gifts for Tween Girls That Are as Trendy and Cool as She Is - Good Housekeeping
The Best Organization Buys for Your Tweens and Teens - HGTV
Visit our other DIY gift guides below for even more ideas!
(Visited 1,915 times, 6 visits today)