How often do you pass items or a pile in your home and say, "I need to deal with that"? We all have an area or more in our home that becomes our catchall area. And, since we do not have time to spend a little time on it, it grows until it gets so big that just looking at it seems overwhelming. This post was created to give you direction to clear clutter fast. I recommend working your way through these unique items and removing the mess now. When you are finished, you will have more space, but you will also feel lighter and more precise about your goals and what you want next. Getting rid of the things you don't use will allow someone else to value the items and make them their own.
Jump to:
Have you gotten so used to the stuff piling up around your home that you don't even recognize it anymore? Well, if you need a wake-up call. Visit this awaken to the clutter posts first before tackling anything on this list.
24 Unique Items to Get Rid of NOW to Clear Clutter Fast
Turn on one of our Spotify playlists, and let's begin!
Old sheets that are worn or not used.
These bed sheets can be repurposed as drop cloths when painting. Visit our post about why your sheets should not be kept in the bathroom linen closet.
Ripped or faded towels.
How many towels do you use right now that are a little shabby? I bet you have at least two. Don't forget to get rid of the hand towels and washcloths.
Unused wedding gifts.
I worked with clients that had A LOT of unused wedding gifts. These are great to sell to consignments since they are usually in their original boxes.
Unused holiday decorations.
We change our decorations, so going through the boxes at the end of the season is a great time to get rid of unused or broken things.
Tablecloths that are worn or never used.
Plastic or fabric tablecloths get worn over time, so when replacing them, get rid of the older ones.
Tools that don't work.
Another clear clutter-fast item is a household tool you don't use any longer. Donate it to household resale places like Habitat for Humanity ReStore.
Unused small appliances.
These unused small appliances may have been given to you as a gift from your wedding. They are usually items that were never used or used once or twice. Donate them right away.
Worn or unused plastic water bottles.
Reusable water bottles take up a lot of space. They could be too heavy, or they don't fit in the cup holders. Get rid of any bottles that have scratches inside the bottle. Recycle them if you can. You can also repurpose by cutting off the top part of the bottle and adding soil and herb seeds like basil or parsley for a quick kitchen garden on the window seal.
Unused Musical Instruments.
I recently got rid of small instruments I received as a gift. These clear clutter items include sheet music and other accessories for these items. They were never used and were taking up space. Pitch it. Ah, more room now.
Bins you haven't used from the last organizing project you did.
Are there bins you didn't use after you organized a room and didn't want to go back to return the item? These items need looking at too. It's a good idea to see if family members could use them or donate them to first-year college students for their dorm rooms.
Leftover craft pieces from your kids' last art project.
I had a bin of just these pieces, and when I was reorganizing, I realized I was keeping too many. The container was gone, and so was the stuff inside.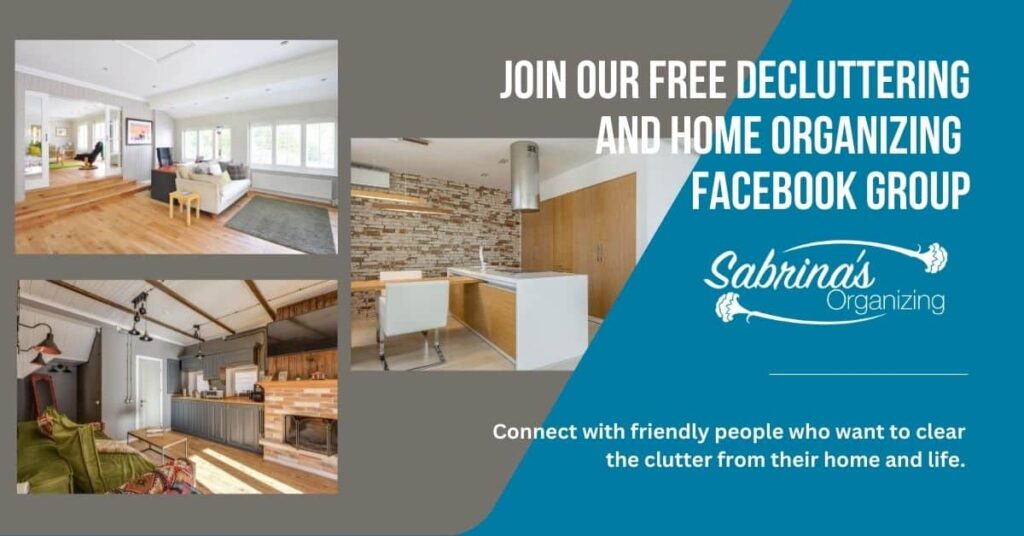 Bridesmaid dresses or prom dresses
Another clear-the-clutter fast item is formal attire like bridesmaid dresses and prom dresses. Any formalwear that looks dated can be given away. I only have my wedding dress left. Everything else was donated. Yay!
Items with missing parts: earrings, socks, shoes, games
If they are gold jewelry pieces, go to Cash for Gold place. Even if you only get a little bit for them, you can at least use it for something you want and can use. If you clear enough of these items, you can get rid of the storage item too.
Sneakers and Work Boots that Smell or that were replaced
I recommend donating only slightly used sneakers and work boots. Otherwise, it's best to trash them. Please don't donate old shoes. I had a client years ago who felt that he could donate a pair of shoes that well very well-loved just because he spent a lot of money on them. I had to convince him that it was not acceptable.
***AD*** from Released Repurpose Reorganize: My List Simplified journal is a wonderful organizing tool for planning a move or a renovation. Use it to corral all the to-dos.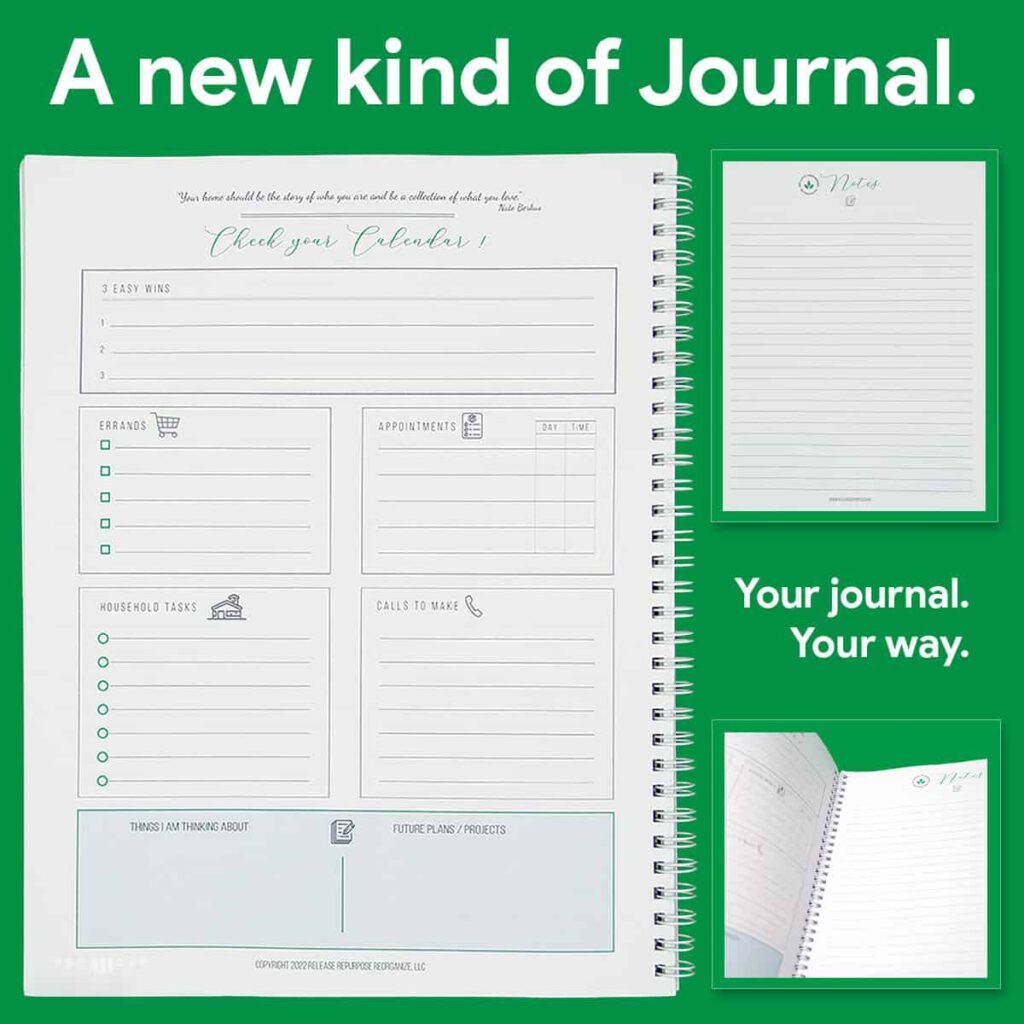 Unused comforters or blankets
When clearing out my mom's home, I found every blanket she ever had. Even the ones that I knew growing up. They were still in shape, and we quickly and joyfully donated them to a charity.
Plastic trophies or participation badges or plaques
Take pictures of them and then pitch them. Contact Trophy Awards to donate your unwanted trophies.
Broken vacuum cleaners or floor cleaners.
The next item to clear the clutter quickly is broken vacuum cleaners and other cleaning tools. Recently, we were clearing out my mother-in-law's home; there were several broken vacuum cleaners and brooms in the basement that we had to clear out. Rule of thumb, if you replace a tool, get rid of the old one. This will save you so much space.
Old chairs that are not being used in a home.
If you don't want to fix a chair or upcycle it, as we did here, it's time to get rid of it. I recently got rid of two bistro chairs that were so far gone I couldn't repair them. Now I have so much more room.
Formal Dinnerware.
Formal Dinnerware is one that people are not using very often. If you inherited a set and never used it, it's time to donate it. You get rid of it. Never donate to someone who will honor it. If you are in the Silver Spring, Maryland, area, you can check out: Pickup Please to donate plates.
Files older than ten years.
You don't need to save them. Just pull out the tax return and shred the rest. If you are a small business owner, be sure to keep the backup paperwork just in case. And, don't forget to shred the sensitive items.
Old magazines.
These magazines could be industry-specific or just for inspiration. All of them can go. After a few months, most of them are accessible online, especially if you have a current subscription. If you can find the magazine online, you don't need to save any of these magazines.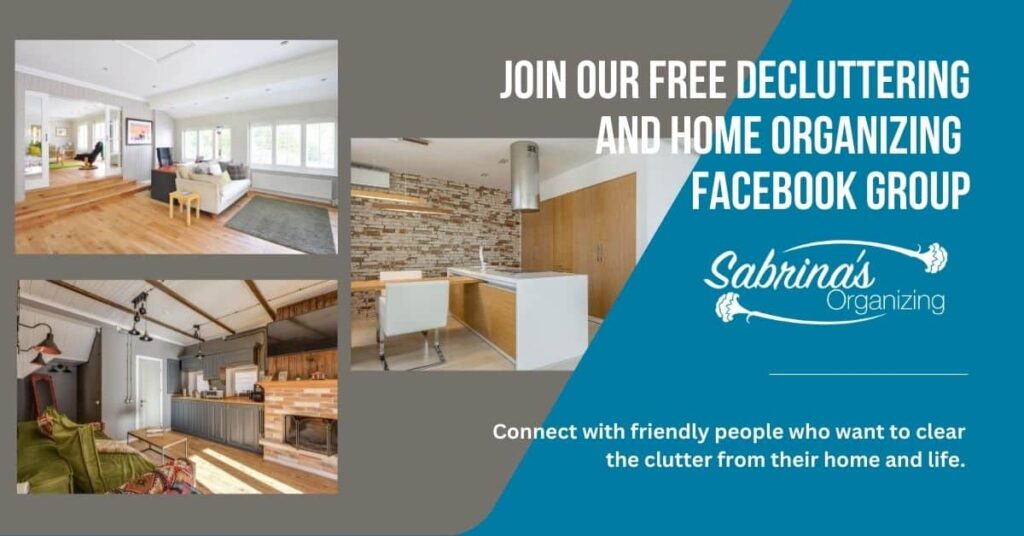 Makeup, hair products, nail polish, and bathroom toiletries are not used.
Check everyone in the cabinet, under the sink, and in the vanity mirror. There are many items that we keep and never use, and the bathroom is a great place to find them. Visit our bathroom items to declutter for a stress-free room post for more tips and things.
Old vases and figurines that you don't love.
And the last clear clutter fast items are old vases and figurines. I love to collect vases, but they take up so much room. The first items you can get rid of are the vases from the florist unless they are sentimental to you. They weren't worth selling or donating.
As for the figurines, if you received them from an inheritance or gift and did not love them, you can donate them or try to sell them.
Now that you weeded through your piles, where should you get rid of them?
There are many ways to get rid of unwanted clutter. I added some links above for each item. Remember, the quicker you get rid of it after you store it, the better it will be for you, your family, and your home. Below is a list of options. Feel free to choose the one that works best and is the easiest for your situation.
7 Ways to Get Rid of Unused Stuff Seamlessly
1st Option: Recycle the item.
Visit our Recycling locations and shredder event page, where you can find local and national recycling centers and shredder events.
2nd Option: Sell at a yard sale.
Make your yard sale unique to what you are selling. Get other people involved in your neighborhood to make it an event. Then be sure to advertise on social media, in the local paper, Craig's List, and through any community neighborhood groups like NextDoor. Here are more tips to help you. 21 Proven Garage Sale Tips for a Smashing Success
3rd Option: Donate to your favorite animal shelter.
Visit your local animal shelter or call them to find out what they are looking for at their particular location. Sometimes the website also has a donation location. Here's the Pennsylvania SPCA donation list or boarding place.
4th Option: Sell at a community day yard sale.
Check your local papers at the end of the summer to see what community events are happening. Sometimes, your neighborhood may have a community yard sale where everyone sells their things on one day to get more visitors.
5th Option: Consign the item to a nearby resale store.
Contact locations near you and determine what they need the most. Visit this post for more tips to help you. How to Make Money Selling on Consignment – Tips, Pros & Cons
6th Option: Repurpose the item to reincorporate it into your life.
Visit our DIY projects section, where I repurpose many items to inspire you.
7th Option: Donate the item to your favorite cause or charitable location.
Visit our Charitable Locations page to help get some ideas of locations nationally and locally. Or, visit our 15 Charitable locations with a cause post for more ideas.
I hope this clear clutter fast post helps you sort through your stuff and get rid of them quickly.
Now it's your turn. Please leave a message below about your frustrations when clearing the clutter. Feel free to ask questions, and I will get back to you as soon as possible.
Please note that the links above are affiliate links through Amazon, and at no additional cost to you, I will receive affiliate fees if you click through and decide to make a purchase.
(Visited 4,063 times, 1 visits today)