Planning your first Thanksgiving Dinner and just don't know what to do. This post is for you. I am going to go through the different areas to manage to easily host a Thanksgiving party and make it easy for your family.
First, determine how many people are coming to your bash.
If you have over eight people, ask people to bring a side dish, appetizer, or dessert. This will help reduce the number of recipes you need to prepare. Ask everyone to bring one dish that will feed at least eight people. Then you are guaranteed to have enough sides for all your guests, plus a few more for leftovers.
Decide if you are going to have a sitdown or a buffet-style meal.
How to decide on a menu for Thanksgiving? 
Years ago, I created a spreadsheet that reminds me of the ingredients I need for the repeat recipes I make. I reprint it each year and fill in the other sides for that current year. Then, I keep them to remind me what I did the previous year. We always change it up on a few dishes each year, and this helps us know how many recipes we need to find and cook on that day. We usually have dishes that we work on at least a day or two before so we include on each recipe when to do the meal. Here's an example of what my spreadsheet looks like. I also include a column that says need to buy and a purchased (completed) column. At the beginning of November, when I go to the wholesale store, I purchase the samples like broth, herbs, etc... and I review this list and check off what I bought. Then, on the Sunday or Tuesday before Thanksgiving, I purchase the rest of the ingredients and I check off the rest of the items.
Feel free to make your version of this Thanksgiving grocery list.
What type of easy dishes should I serve for Thanksgiving?
Appetizer:
For a group of 10 guests, 1-2 appetizers work nicely. Be sure to take into account if you have vegetarian family members or friends. If you have more than ten guests, I recommend three different appetizers that include mixes of cheeses, meats, and vegetarian dishes. Here's an example of one of my staple appetizers.
Main dish:
Turkey usually is the main course at Thanksgiving of course. But, how you make it can change each year. We have brined our birds each year but have made it with a bourbon brine,  then, other Thanksgiving,  we used an all-time favorite standard is by Alton Brown. If you don't like turkey, we have homemade lasagna when I was a kid.
Side Dishes:
we usually do a potato dish (mashed or roasted), a stuffing dish (we love chestnut stuffing), a casserole dish, a squash soup, and roasted veggies. We found that this allowed us to accommodate the vegetarians in our family easily enough. This is so easy because you can place them on a cookie sheet and make them in the last hour.
Feel free to check out our collection of side dishes here.
Bread/Gravy:
If you like to serve bread at the table, try this cornbread recipe. It's very aromatic and easy to make. Gluten-free dinner rolls are great too. Be sure to heat them through. They are much better that way. This cornbread recipe can be made in the morning and left out for dinner.
Desserts:
This part of the meal can be omitted if you have other people coming and they want to bring desserts. I don't make a lot of sweets so at this party I usually just make a few pumpkin pies and leave it at that. We make the pies the Wednesday before Thanksgiving. Here are a few of my easy dessert recipes.  The Apple cobbler is excellent because it can be cooked in the slow cooker freeing up the oven for other things. The cupcakes can be made the night before, so you don't have to worry about it.
Visit our other dessert recipes for more ideas for the holidays.
Drinks:
This part of the meal is optional as well. If you like to make mixed drinks, I found that cranberry champagne is fun and festive for the season. All you need to do is add champagne to frozen cranberries. Here's a recipe I have used in the past from the Food Network.
Visit our non-alcoholic drinks for more ideas to serve at your party.
Don't forget: Make a note of what others are bringing so you can reduce the number of meals you want to make.
How to decorate a table or tables for Thanksgiving?
If you are going to have more than your table allows, you may want to set up different tables in different rooms. In warmer climates, you may want to set up seating outside. In colder climates, it's great to have smaller tables in separate rooms like the dining room, family room, kitchen, sunroom, etc... Decorating the different tables with the same centerpiece will help make the rooms cohesive in style. Going through your fall decorations and pulling them for your centerpieces works nicely. No cost and no time looking for something. Plus, it eliminates the clutter on other surfaces. It's a win-win.
If you have one table, try decorating with the existing decoration you have around the house and cut some branches off evergreens in your yard.  The evergreen tree branches and leaves add a fresh look to plastic or beaded decoration.  I like to start with something tall and work my way down to the table with different-sized items. It looks beautiful and brings color to the table.
What to do a few days before Thanksgiving?
Now that Thanksgiving is coming closer, it's time to go through and pull out the platters and serving utensils. Don't forget the plates, forks, and knives. I find that more sturdy plates because the food tends to get a little heavy. Pull out your tablecloths and set up the table. If you are having a sit-down dinner, you can even prep the table the day before the party. You don't need to do this on Thanksgiving day.
Well, there you have it. I hope this helps you make your first Thanksgiving party a huge success. Remember to ask for help. No one can do it alone. It's a lot of cooking and eating so keeping yourself organized and allowing people will help will keep the stress down and will enable you to enjoy the day.
Need even more inspiration for your Thanksgiving party planning, check out these articles I found.
8 Ways to Host Thanksgiving in Style—and with Ease!
12 Essentials to Know When Hosting Thanksgiving for the First Time
Six Ways to Host a Better Thanksgiving Party
5 TIPS TO GET YOUR HOME READY FOR THANKSGIVING by me
MAKING A FABULOUS PARTY THAT EVERYONE WILL LOVE
Please note the link above is affiliate links through Amazon and at no additional cost to you, I will receive affiliate fees if you click through and decide to make a purchase.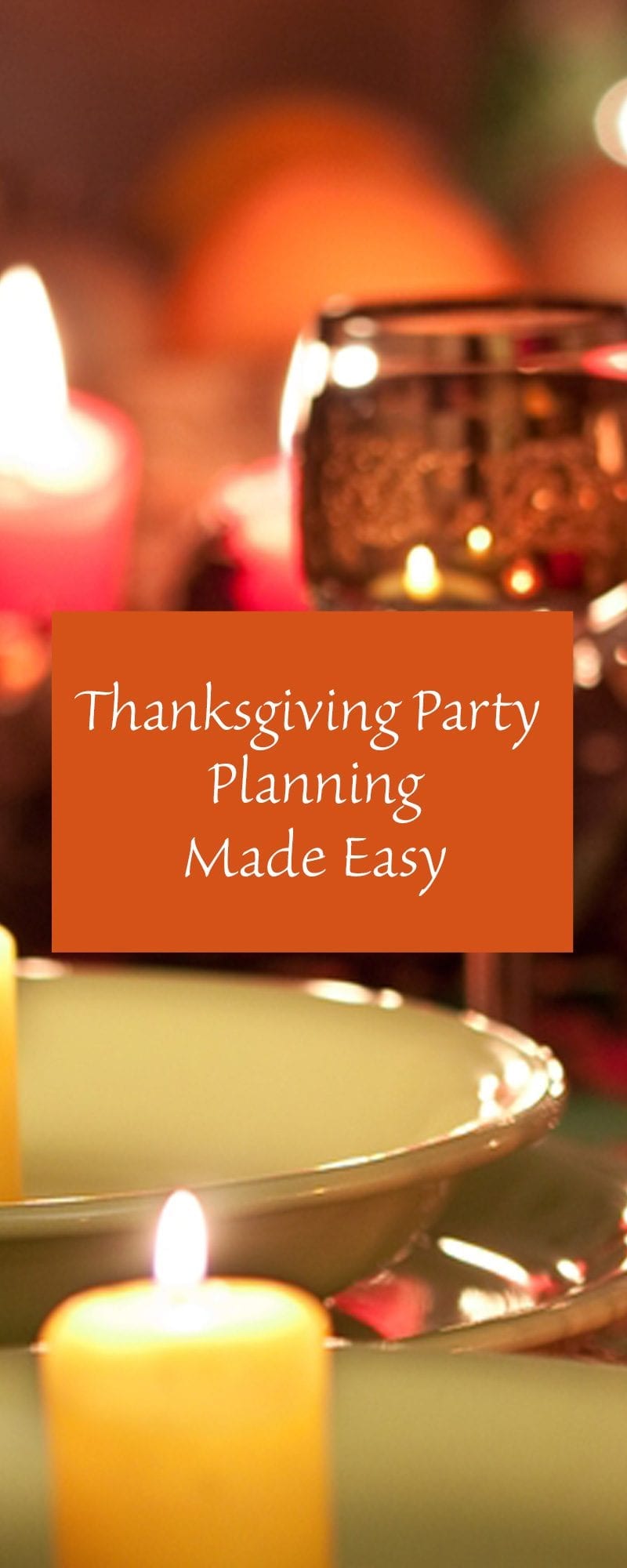 (Visited 531 times, 1 visits today)