Recently, we decided to replace our daughter's carpet with cork flooring while she was away. To prepare for this renovation, her and I began clearing the unwanted clutter in her room. Usually, it would be a torturous event where she would argue with me that she wanted to keep it all and I would explain with no success that she does not need to keep everything. And, then I would continue to explain to her that she would need room for the new items she would need in the coming years.
But this time was different. My daughter was willing to get rid of a lot of stuff. And, I mean a lot of things. We even went through her markers, art supplies, and checked every single item to make sure they all worked.  We, even, went through cabinet after cabinet and drawer after drawer and recycled scraps of paper, old drawings, small figurines, and even, her precious large collections of stuffed animals. I was so very proud of her. We got rid of 2 full bags of trash and one large bag of recycled paper. She even wanted to sell her American Girl doll and clothes.  I was having a hard time letting go of that one myself, but she did it and was able to make $75.00 off the sale. She then put the money toward her other hobbies.  She also donated two bags of small toys to Goodwill.
While reflecting on the project we completed later that evening, I came to the conclusion that there are times in life we are more willing to get rid of items. So, I decided to embark on creating a list of the best times in life to get rid of clutter. Here is the list of the times I found it easiest to remove the clutter. If you are experiencing any of these life changes, feel free to click on the post titles next to the experience to visit posts on the topic.
The Best Time To Get Rid of Clutter In Your Life
Remember, the main reason people want to get rid of things is that they are looking forward to a change in their lives.  By decluttering, they are getting rid of old ideas and old stuff that represent a different time in their lives. This results in a clear mind and clear space.  And, allow them to look at the future and leave the past.
It's one of the few times that clearing the stuff isn't creating anxiety or undue stress on the individual. If there is a lot of clutter to clear, it may feel overwhelming but with other people's help (like a family member, friend, or professional), it can be done and will enjoyable too.
"When we are more excited for the next step, we are more willing to get rid of clutter." ~ Sabrina Quairoli
Now, you may have your ups and downs through the process.  You may have days of feeling frustration, being impatience, and feeling angry.  Frustrated with the surroundings and yourself for not clearing the clutter sooner. Feeling impatient for how long it is taking to get things done.  Mad at yourself for allowing the mess to accumulate over the many years.  Be gentle with yourself and allow the clearing the clutter process unfold at its pace.
Try determining the best time of day that makes you most productive.  Ask yourself what time of day you are most productive? Do you work better in shorter spurts of time or do you prefer blocking out a longer time slot for 2-3 hours? Then, ask yourself do you work better when you have help or if you do it by yourself? All these questions will help you figure out what is most productive for you.
Here are some examples of times in the day you may be more productive.  
On a Friday afternoon.
On a Sunday afternoon.
In the evening after 7:00 PM.
On a lunch break if working from home.
Short 15 - 30 minutes organizing sessions at the same time each day. 
Longer uninterrupted 2-4 hour time slots. 
Every client, friend, and family member I worked with had some variation of the above time examples that they were productive. As every person is unique, so is there organizing process and time of day they work most efficiently. And, that is OK. You just need to find the time of day that works for you and your situation.
If you are looking for additional advice on decluttering here are some other articles that will help.
The Best Decluttering Advice You Were Ever Told
When Should You Organize? By Happily Ever Uncluttered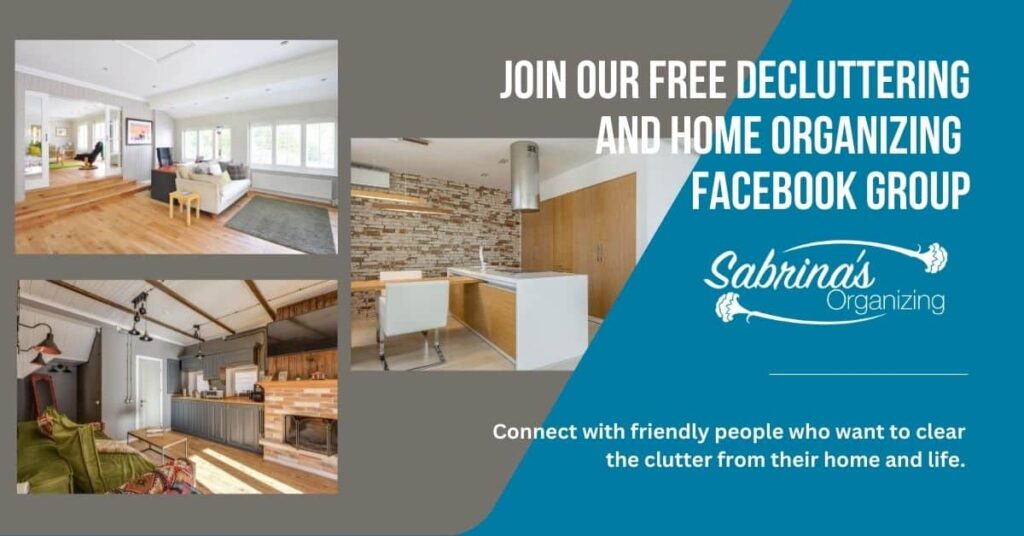 I hope this helps you find your most productive part of the day to remove the clutter. And, hopefully, when you have these experiences, this post will remind you that it is an excellent opportunity to remove the unnecessary stuff in your life. Peace to you in your life.
(Visited 2,303 times, 1 visits today)